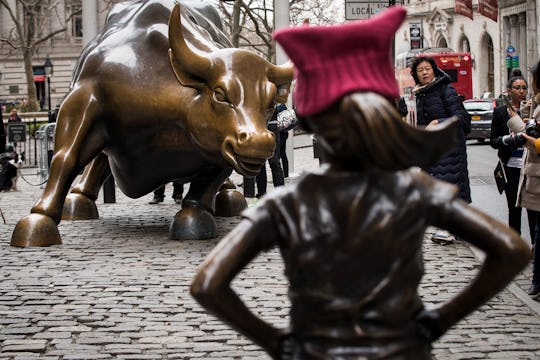 Drew Angerer/Getty Images News/Getty Images
Tweets About The 'Charging Bull' Artist Point Out The Irony
It must have been a life-altering night back in 1987 for artist Arturo Di Modica. Under cover of night and without permission, he erected a 7,000-pound sculpture of a bronze bull directly outside the New York Stock Exchange as a symbol of American resilience after the stock market crash. Now, 30 years later, there's a new girl in town... and Di Modica isn't happy about it. These tweets about the "Charging Bull" artist opposing the "Fearless Girl" statue prove not everyone agrees with the artist's opposition.
The artist's 11-foot "Charging Bull" statue now stands, with the blessing of the city of New York (which allowed the statue to stay after much public support), in the city's financial district, steps away from Wall Street. It has become a popular tourist attraction over the past 30 years, but now it's facing (quite literally) some stiff competition. On March 7, the eve of International Women's Day, artist Kristen Visbal was commissioned by Wall Street giants State Street Global Advisers and McCann Advertising to create the 4-foot "Fearless Girl" statue. This statue of a young girl, standing with hands on her hips and feet braced in an apparent show of courage, now stands on a traffic island facing down the "Charging Bull." She is meant to represent the lack of women on the boards of major U.S. corporations. While the statue has garnered favorable international attention for its message of female empowerment, 76-year-old sculptor Di Modica is reportedly not a fan. According to The Washington Post, he believe the "Fearless Girl" statue has changed the integrity of his own creation, and also believes this is merely an advertising trick. Di Modica told The New York Post in March:
I put it there for art. My bull is a symbol for America. My bull is a symbol of prosperity and for strength.
Di Modica has claimed that the presence of the statue infringes on his own artistic rights, and has contacted a lawyer to formally oppose the installation. Norman Siegel told The Associated Press that the artist would hold a news conference on Wednesday outlining the issues he has taken with the statue of the little girl. Romper reached out to a representative for Di Modico and is awaiting a response.
Twitter, naturally, took note, with many social media users observing the irony of an established male protesting the symbolic presence of a statue that represents girl power.
While Di Modica continues to grumble and oppose the "Fearless Girl" statue (which the city will allow to stay in place until at least Feb. 2018 after hundreds of thousands of people signed a Change.org petition asking for it to remain), artist Visbal has admitted she empathizes with him. In an interview with The New York Post, she said Di Modica was an "exceptional" artist. And while she praised his creation, she also said:
The bull is beautiful, it's a stunning piece of art. But the world changes and we are now running with this bull.
Indeed the world is changing. One "Fearless Girl" at a time.