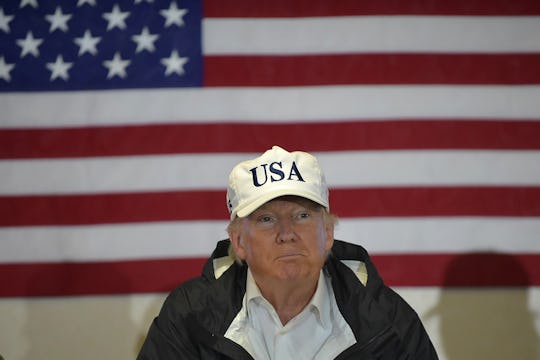 MANDEL NGAN/AFP/Getty Images
Trump Threw Paper Towels To A Crowd In Puerto Rico & Yup, That Really Happened
President Donald Trump was visiting the people of Puerto Rico on Tuesday, ostensibly to survey the damage Hurricane Maria had wreaked on the island last month, leaving at least 16 dead and millions without power. During his visit, Trump met with local officials to discuss ongoing relief efforts, which many have found to be lacking on the federal level (notably including San Juan Mayor Carmen Yulin Cruz). As Puerto Ricans struggle to bring some sense of normalcy back to their lives, it seems Trump had a fairly ridiculous response: Paper towels. Yup, these tweets about Trump throwing paper towels to the crowd in Puerto Rico are full of justifiable incredulity, because really? That's the solution?
Despite dozens of media reports that have depicted a dark and difficult struggle for the people of Puerto Rico post-Maria (CNBC reported a weakened and frustrating supply chain, people begging for food and water on the streets, and a horrifying smell of "rotting flesh" in the air), Trump landed on Tuesday beaming ear to ear. Ready for some accolades for what he appeared to believe was the Trump administration's excellent response to Hurricane Maria. Instead of being sympathetic to their losses, Trump said at a press conference on Tuesday that Hurricane Maria wasn't a "real" catastrophe like Hurricane Katrina in 2005, according to The Hill, saying:
If you looked — every death is a horror, but if you look at a real catastrophe like Katrina, and you look at the tremendous hundreds and hundreds and hundreds of people that died, and you look at what happened here with really a storm that was just totally overbearing, nobody has seen anything like this.
Forget power, food, and access to water. Apparently, the issue in Puerto Rico must all come down to not enough paper towels.
There are times when one really must wonder whether or not Trump is secretly in cahoots with the writers of Saturday Night Live, providing them with material for sketches starring Alec Baldwin on the side.
Trump was meeting with storm victims at a church after a briefing at Muñiz Air National Guard Base. While he spent very little time with the public on the island, he managed to make that time... memorable. He handed out packages of rice, according to The New York Times, and then decided it would be time to gently vault some rolls of paper towel at hurricane victims much like T-shirt launchers at concerts. Except so much worse.
And the internet had no time for his insensitive nonsense. Samantha Bee of Full Frontal With Samantha Bee noted the absolute hypocrisy of Trump's behavior, especially after he took NFL players to task for daring to take a knee in silent protest during the national anthem.
Other Twitter users were just horrified that a president would respond to an ongoing humanitarian crisis like post-Maria in Puerto Rico with such bland indifference.
Still more Twitter users pointed out that Puerto Ricans need food and water, not a few rolls of paper towels callously tossed at them for what the president clearly considered a brilliant photo-op.
President Trump had several spectacularly awful moments during his visit to Puerto Rico. After mocking Puerto Rico's financial state by joking around that disaster relief efforts have "thrown our budget a little out of whack," according to BuzzFeed, he went on to tell residents living without electricity to simply "have a good time."
But perhaps the most evocative image to come out of the president's time on the island will be this; the president of the United States lobbing rolls of paper towels into a crowd of hurricane survivors seeking food, seeking shelter... seeking answers. But it seems like, for now, they won't be getting any from Trump.
Watch Romper's new video series, Romper's Doula Diaries:
Check out the entire Romper's Doula Diaries series and other videos on Facebook and the Bustle app across Apple TV, Roku, and Amazon Fire TV.