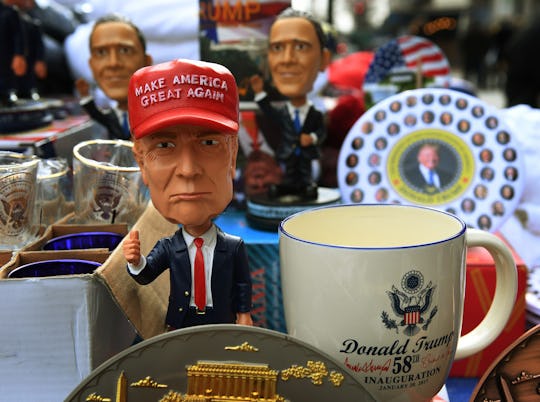 MARK RALSTON/AFP/Getty Images
Only The Best Tweets About Trump's Inauguration
After a long, difficult election road, Inauguration Day has finally arrived. In a few short hours, Donald Trump — the abrasive TV celebrity-turned-politician — will take Barack Obama's place as president of the United States. Not sure how to feel? Here are some tweets about Trump's inauguration that will make you make think.
Although inauguration proceedings begin at 9:30 a.m. Eastern Time on Friday, Supreme Court Justice John Roberts Jr. won't swear in Trump and his running mate, Mike Pence, as president and vice president, respectively, until noon. As detractors and supporters wait for the official start of Trump's presidency, people have taken to Twitter to express reactions to not only the inauguration, but what a Trump presidency will mean for women, people of color, Muslims, immigrants, transgender people and other marginalized populations in America. In recent days, Twitter users have used the social media platform to raise their concerns over inaugural commitments, such as R&B singer Chrisette Michele's scheduled performance or the Girl Scouts of America's participation in the parade.
There's no doubt that the next four years will be fraught with tension, anger, and disappointment for many people living in the United States. Reading through these Twitter posts should explain why.
Former President Obama kicked off the morning with some inspiring last thoughts:
Later in the day, former Secretary of State Hillary Clinton shared her encouraging thoughts for the next four years under a Trump presidency:
But the terror level pretty much ratcheted up again after that:
But Friday wasn't the only day to see its fair share of sober tweets. Inauguration Day reactions and musings were pouring in on Twitter as of Wednesday, the day before the inaugural proceedings began:
Of course, this is just a sampling of tweets that express the emotions and reactions to the transfer of power that happened on Friday afternoon, capping off a challenging year. For Trump's supporters, Inauguration Day symbolizes a bright future for a handful of Americans, while for the rest of the country, Friday kicked off what is expected to be a tumultuous presidential term that will threaten the rights and liberties of the United States' most vulnerable groups.
Despite inheriting a strong economy and low crime rate, Donald Trump asserted during his first speech as president Friday that he will "make America great again" by getting rid of "the American carnage." But, as with during his campaign, the question remains: for whom?
For now, it's all up for Twitter to mull over.