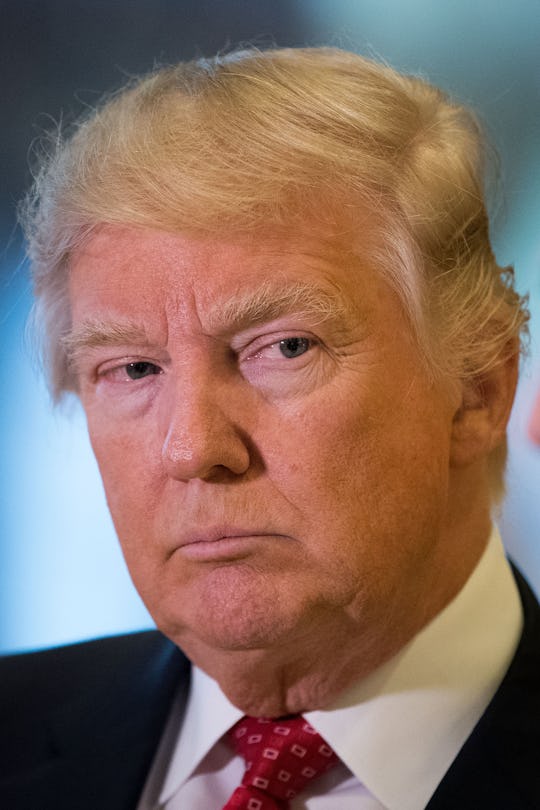 Drew Angerer/Getty Images News/Getty Images
Tweets About Trump's Press Conference Are Divided
President-elect Donald Trump held his first press conference since winning the election on Wednesday. Trump has been vocal about his tense relationship with the press throughout the presidential election, and it doesn't look as though the love fest will continue. Skimming through tweets about Trump's press conference is another reminder of how truly divided the country remains as we move towards the Presidential Inauguration on Jan. 20.
Despite the fact the Trump was initially meant to hold a press conference to discuss the potential conflict of interest issues he might come into once in office (Trump has been under pressure to sever ties with his massive business dealings once he becomes the president), the main stream of questions was focused on the Russian hack of the election. BuzzFeed recently published an unverified 35-page dossier allegedly claiming that Trump has deep ties with Russia. This news comes after 17 separate intelligence agencies reported that Russian hackers infiltrated email servers of the Democratic Party, as well as Republican campaigns. Trump's campaign, however, was never hacked. Trump continued to assert that any news that connects him to Russia was "fake news," and that his positive relationship with Russian President Vladimir Putin would be a good thing for Americans. When asked specific questions about the nature of the intelligence briefings about the Russian hacks, he finally admitted that (maybe, possibly) it was Russia, saying:
As far as hacking, I think it was Russia, but I think we also get hacked by other countries, other people.
Twitter, naturally, had lots to say about Trump's press conference.
Trump was also asked about his tax returns, saying:
I'm not releasing the tax returns because they're under audit ... The only people that care about my tax returns is the reporters ... I won. I became president. I think you care. First of all you learn very little from tax returns.
Twitter disagreed.
Trump continued to be combative with the press, continuously calling out the alleged sharing of "fake news." In fact, he even went so far as to refuse to answer questions from certain reporters.
One of the most peculiar segments of the press conference came when Trump finally (finally!) said that he planned to pass the running of his business along to his sons, Eric Trump and Donald Trump Jr. Trump. He passed the microphone over to his lawyer, Sheri Dillon, to divulge the details ad nauseum. It went on for far too long, and felt like a distraction from the weighty details that should have been covered by the press conference.
He went on to talk about his plans to build a wall between the United States and Mexico.
Ultimately, Trump didn't really divulge any new information at this press conference. He insulted major news outlets, mocked reporters for asking questions he didn't feel were important, and generally gave the impression that he didn't feel he needed to talk to the press.
It's a foreboding sign of things to come for the American people.