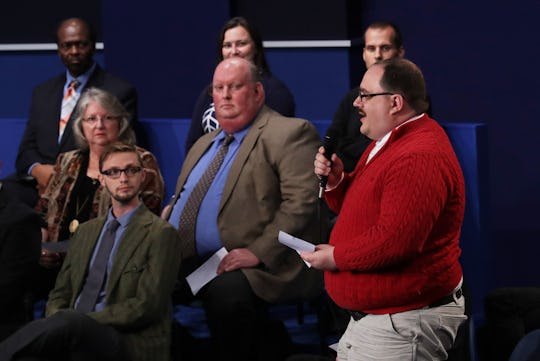 Chip Somodevilla/Getty Images News/Getty Images
Tweets From Ken Bone's Wife, Heather Bone, Show The Man Behind The Meme
During the second presidential debate, one man emerged as the shining light and beacon of hope that America was looking for — and that beacon of hope was Kenneth Bone. Kenneth Bone has since become an internet sensation — but at the end of the day, he's just your average guy. Which is why tweets from Ken Bone's wife, Heather Bone, show that the Bones are people who never assumed that they'd be in the spotlight and give an inside glimpse at the man behind the meme.
But first, a little background on the Bone's fame. Kenneth, a 34-year-old from Shiloh, Illinois was one of the few undecided voters selected to sit on stage and ask a question during the second debate. Little did Kenneth know, that Twitter users had fallen in love with him as the debate was going on. Since then, Kenneth has gone on to give interviews and make appearances on talk shows. It is hard not to like Kenneth — during the chaos of the second debate, Kenneth served as the bit of normalcy in this election for voters to cling on to.
Due to Kenneth's recent celebrity status, his wife Heather has also got some attention. Although she is relatively new to Twitter, Heather has already amassed 1,730 followers. And her tweets from her feed, reveal a lot about her and her husband:
She Supports Her Husband In All Endeavors
Heather's second tweet ever shows just how supportive she is of her husband in all of his endeavors. While Kenneth was busy doing interviews during the days after the debate, Heather gave a behind the scenes look at Kenneth's new work for the week — interviews. And even though she was "starting to miss her husband" this picture shows just how supportive she is of her very busy man.
She Loves That Red Sweater, Just Like Everyone Else
Yes, Heather is a fan of the now iconic red, cable knit, half-zip sweater, too. In fact, Heather was behind Kenneth's decision to wear that red sweater on stage. According to People, Kenneth told Jimmy Kimmel that Heather picked out the sweater, after his first outfit choice — an olive colored suit — ripped before the debate.
She Enjoys iPhone Games From Time To Time
Heather's tweet about playing the interactive, competitive smartphone word game, Words With Friends reveals two things. One, the Bones love their word games and two, Kenneth is probably a beast at scrabble.
She Does Her Laundry More Than Me
According to Heather's tweet, the famous red sweater gets washed every night while Kenneth sleeps. This means that Heather does her laundry more than me and is incredibly dedicated to treating that iconic red sweater with care.
She Gets Embarrassed By The Little Things
Heather tweeted that she was embarrassed about the dirty dishes laying around on the counter top in the first photo she posted of Kenneth on Twitter. Just like my mother who had to vacuum and clean the home before company came over, even Heather gets embarrassed when company — or her 1,700 Twitter followers — can see dirty dishes.
She Is Completely In Love With Kenneth Bone
From dating to marriage, you can see from Heather's Twitter that she loves her husband so much. How could she not? According to Mashable, Heather and Kenneth were high school sweethearts while attending Granite City High School in Illinois. Her love and support for her husband is so evident through her social media — especially in that hug tweet. So adorable.
Heather Bone's Twitter gives a behind the scenes look to her husband and their family behind the internet fame.