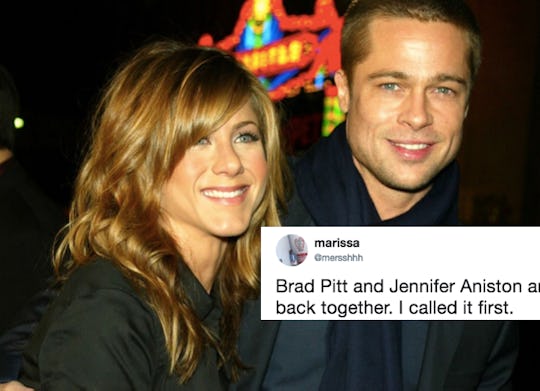 Kevin Winter/Hulton Archive/Getty Images
Jennifer Aniston & Justin Theroux Split Up & Twitter Already Has Theories About Brad Pitt
I'm not sure if you've heard the news, so you might want to sit down. It's the breakup nobody was prepared for, and honestly I think nobody wanted. Jennifer Aniston and Justin Theroux have parted ways, and people are trying to wrap their heads around this new normal. In the meantime, Twitter quickly became convinced that Jennifer Aniston and Brad Pitt are getting back together following the news of her split.
As Aniston fans (who also call ourselves "Team Jen" just as a little defensive aside) will remember, she and the Fight Club actor were married from 2000 to 2005. It was a pretty glorious time, they shared matching blonde highlights that were impossible to replicate, Pitt had an amazing guest spot on Friends... those were the days of Camelot. Then Pitt moved on with Angelina Jolie, who he met on the set of Mr. & Mrs. Smith, the couple had six children together and lived in a castle in France.
Aniston went on to fall in love with Theroux on the set of Wanderlust in 2011, and the two were married in a secret ceremony in front of all their famous friends in August, 2015. Things tripped along just fine for a few years, until Jolie filed for divorce in September 2016. Then on Thursday, Aniston and Theroux announced their breakup, which actually took place at the end of 2017. Romper's requests for comment from both Aniston and Theroux's reps about the divorce were not immediately returned.
And now, Twitter is partying like it's 2005 all over again.
Not to tell Twitter how to live its life or anything, but maybe it might be nice to give Aniston and Theroux, like, a minute to figure themselves out here? ABC News reported that the couple shared a statement through longtime Aniston publicist Stephen Hurvane "in an effort to reduce public speculation." The statement read in part:
Normally we would do this privately, but given that the gossip industry cannot resist an opportunity to speculate and invent, we wanted to convey the truth directly. Whatever else is printed about us that is not directly from us, is someone else's fictional narrative. Above all, we are determined to maintain the deep respect and love that we have for one another.
The statement continued to say that Aniston and Theroux would continue to be "two best friends who have decided to part ways as a couple, but look forward to continuing our cherished friendship."
Unfortunately, Twitter is pretty much just focused on the fantasy of Brad Pitt and Jennifer Aniston reuniting.
That being said, not everyone was ready to jump back into that particular pool that drained almost 13 years ago. One savvy tweeter even noted that there were some pretty serious complications that have cropped up in the interim; namely, Pitt's six kids.
And then there's the rather farcical nature of it; a couple goes through a very public, very acrimonious split. They marry, they divorce, they reunite years down the road. I think this might be the plot to every black-and-white movie I've ever seen.
So here it is, folks; divorce is tough. Jennifer Aniston was obviously very much in love with her husband, and she doesn't need a new/old romance to muddy her healing. Let's all give her time to go for long walks on the beach, maybe adopt a new dog or two, and paint her fabulous home all of the shades of white in the Scandinavian palate.
As for Brad Pitt... I'm sure he's a lovely guy, but he had his chance. That being said, if they do end up reuniting I wish them nothing but love and light.
A girl has to hedge her bets these days.
Check out Romper's new video series, Bearing The Motherload, where disagreeing parents from different sides of an issue sit down with a mediator and talk about how to support (and not judge) each other's parenting perspectives. New episodes air Mondays on Facebook.