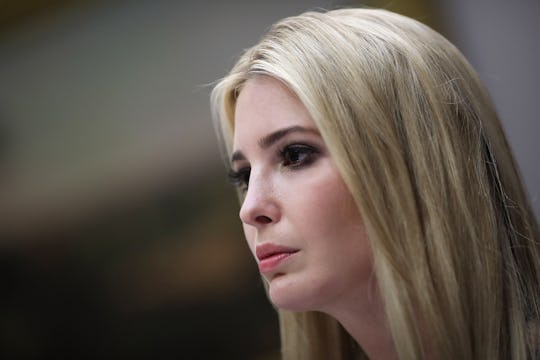 Win McNamee/Getty Images News/Getty Images
Twitter Is Not Here For Ivanka "Clarifying" The Trump Administration's Breastfeeding Policy
White House adviser Ivanka Trump has long touted herself as a working woman's advocate. When her father was campaigning to become the 45th president, Ivanka went to the mat for her father time and again, giving the impression that she would work for gender equality in the workplace and for the rights of working mothers in particular. Since President Donald Trump has taken office, many critics have noted that the first daughter hasn't exactly followed through with supporting mothers. And Twitter was definitely not here for Ivanka "clarifying" the Trump administration's breastfeeding policy that has outraged citizens far and wide.
Romper's request for comment from the White House regarding its stance and recent backlash to Ivanka's tweet was not immediately returned.
In May, the Trump administration reportedly attempted to prevent an international breastfeeding resolution at the World Health Assembly in Geneva in favor of supporting infant formula companies, according to The Guardian. As The New York Times first reported, this breastfeeding resolution, which was supported by the World Health Organization, would have seen countries encouraging new mothers to breastfeed their children if possible because of the incredible health benefits to both mothers and babies. The original resolution, according to HuffPost, would also have seen countries warning new moms against marketing efforts used by formula companies.
A U.S. delegation allegedly put pressure on other countries to renege on its support of this reported breastfeeding resolution, according to The New York Times, even going so far as to allegedly threaten delegates from Ecuador with potential tariffs and a withdrawal of military support if they backed the original resolution, as The New York Times reported. The breastfeeding policy was eventually passed after Russian delegates stepped in with a slightly watered down version, according to The New York Times.
President Trump responded to public criticism over U.S. opposition to the resolution by saying, according to PBS News, "The U.S. strongly supports breast feeding but we don't believe women should be denied access to formula. Many women need this option because of malnutrition and poverty."
Once word got out that the United States had reportedly tried to block an important international breastfeeding resolution, there was serious backlash. As Patti Rundall, a policy director for the U.K. breastfeeding advocacy group Baby Milk Action told The New York Times:
What happened was tantamount to blackmail, with the U.S. holding the world hostage and trying to overturn nearly 40 years of consensus on the best way to protect infant and young child health.
In the wake of the global backlash, two members of the Trump administration wrote an op-ed piece for The New York Post, defending the alleged behavior of the U.S. delegates in Geneva and saying that "misinformation" had been spread about the events there. Both writers were quick to say the Trump administration is just trying to make sure mothers have access to purchase infant formula and nothing more.
Further, the op-ed went on to contend that the United States fully understands and supports breastfeeding and how important it is to the health of both mother and child. The two writers also pointed out that many mothers cannot breastfeed, and they wanted to be mindful of a woman's right to make that choice.
And Ivanka tweeted a link to the story with the explanation that "after much misinformation has circulated on this important topic in recent weeks, this clarifying OpEd by @Surgeon_General is a must read."
Twitter quickly responded to her tweet, with some critics pointing out that Ivanka and the article she shared did not actually respond to the fact that the U.S. delegates allegedly tried to railroad a breastfeeding resolution.
Then there's the idea that mothers who are struggling to feed themselves in less developed countries and in the United States are supposed to somehow afford expensive infant formula.
People are clearly tired of the Trump administration's reliance on calling "fake news" whenever something less than positive comes out. And because the internet exists, they have no problem telling Ivanka Trump they're simply not buying it.