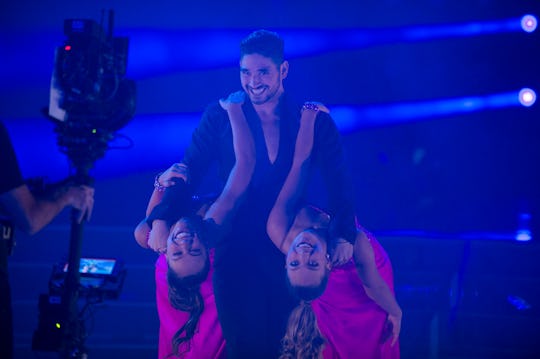 ABC/Eric McCandless
*This* Is The Couple To Beat On 'DWTS' Disney Night
It's Monday which means only one thing — Disney Night on Dancing With the Stars. Between the costumes, the "flair" as judge Carrie Ann Inaba said, and the ode to all things Walt Disney, it's like I'm living in Cinderella's castle with Gaston and Wreck It Ralph. All that aside, there's one couple fans can't get enough of and I can prove it. Twitter loves Alan Bersten & Alexis Ren's chemistry on DWTS and I'm not joking — they might be this season's "showmance" to beat (not an easy thing to accomplish).
OK, so maybe Alexis and Alan aren't actually dating, IRL — and nothing's been confirmed or insinuated by the pair thus far — but the internet can have its opinions based on the dances and their interactions, right? The Monday night performance showed the two dancing to the foxtrot. It was set to "Just Around the Riverbend" from Pocahontas and more than a sprinkle of Disney magic. I think it's actually called hard work and sweat. And though it was just confirmed that Alexis broke up with her photographer boyfriend — otherwise known on Instagram as Sky Bear, according to The Blast — it's never comfortable to have to address these things on national TV, or to be asked if there are real feelings for pro partner, Alan. Regardless, leave it to Twitter to give all the other takes (good and bad) because that's why it exists. I'm not mad about it, but I'm also glad it's not me on that stage at the mercy of public opinion (or maybe I am here?) based on the way a dance comes across.
Anyway, here's what viewers have to say about Alexis and Alan's Disney performance, their chemistry, and their general way of being as the first dance of the night.
So it's not just my eyes that have seen the palpable chemistry, it spans across the interwebs. Every week the two have danced, you can sense they — at the very least — get along well and have spent a great deal of time trying to know one another. Like when Alexis opened up about her mom's battle with cancer and Alan was so supportive. There are couples sometimes who, and you can tell, don't jive, and I don't mean the dance. Alexis and Alan seem to have a real respect for each other and it plays out through the performances.
And while most are generally all for the dynamic duo, there are some who aren't into the way they're showcased in their video packages. It's hard to say what is or isn't true, but Twitter still has opinions and that why I get online at all, TBH.
But the beauty of the internet is that there are opinions abound. One might mention the "showmance" is off-putting or too much, while others focus solely on the dance. You're the real "stars."
Others are all about Alan as a prince (that should totally be a hashtag) and I won't argue against it. In fact, #alanasaprince.
It doesn't matter whether there's any real romance behind the scenes with Alexis and Alan and honestly, it's not my business or the world's. But when those two are on that dance floor there's an undeniable connection. With a score of 29 out of a possible 30, the judges see it, too. Plus, after the internet exploded over last week's trio night with Maddie Ziegler, this Disney routine may have kept them on another week. Only time will tell how the rest of the season, and any potential "showmance" develop. For now, I'll take my Mickey ears and wish everyone on DWTS the very best.