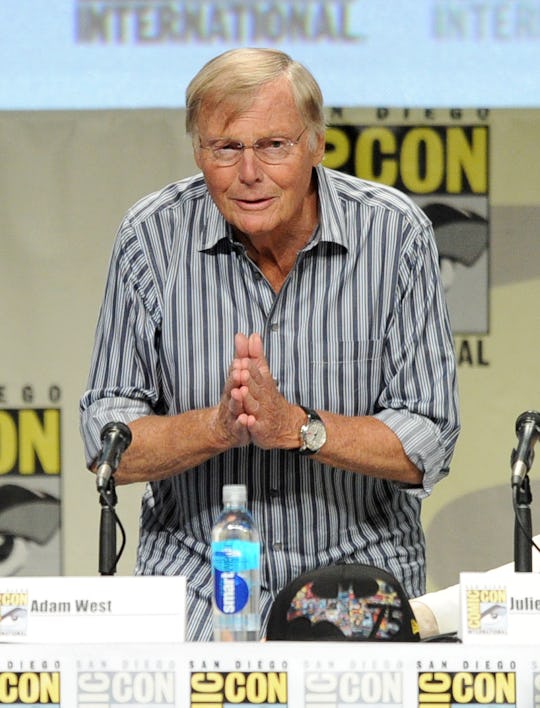 Kevin Winter/Getty Images Entertainment/Getty Images
Twitter Reacts To Losing 'Batman's' Adam West
Adam West lived 88 years on this planet. He was a husband, a father, a grandfather, and even a great-grandfather. He was in the U.S. Army for a time. And he was his own, best version of himself. Whether he was playing Batman, the Mayor of Quahog, or himself, these Twitter reactions to Adam West's death are proof positive that he made an indelible mark on generations of fans.
West died on Friday night peacefully at his home in Los Angeles. He had reportedly been battling leukemia for some time. He is survived by his wife Marcelle, six children, five grandchildren, and two great-grandchildren. He is also survived by thousands upon thousands of fans spanning six decades of watching West's career. From his early days as a commercial actor, to his movie roles and, of course, those fateful two years when he starred as the deliberately campy version of Batman for ABC (1966-1968). From his iconic celebrity appearances as a fan favorite at Comic-Con, to cameos on shows like 30 Rock and The Big Bang Theory and finally, his next iconic role voicing the Mayor of Quahog on Family Guy. West has made a career out of being intentional. Out of playing himself and being himself in every situation. And fans have taken to social media to thank him for his years of service.
Celebrity Love
From a fellow Family Guy castmate, actor Patrick Warburton.
And from a fellow Batman, Val Kilmer.
Director Kevin Smith, also known as the career fan boy, took to Instagram to share his thoughts on losing Adam West. He captioned this photo in part:
Oh Batman my Batman! I'm standing on my chair to honor #adamwest - the man whose portrayal of costumed justice made me wanna be a good person when I was a boy.
Let's not forget West's other role as a superhero; Catman from Fairly OddParents. Creator Butch Hartman sent out a tweet to honor West after his death.
Missing Batman
Five actors have played Batman in the past 30 years; Michael Keaton, Val Kilmer, George Clooney, Christian Bale, and Ben Affleck. But Adam West was first. And fans won't forget. West played Batman with a glorious sense of the absurd. He was never the "Dark Knight" when West was around. As his family wrote in their statement to Variety about losing him, he was the "Bright Knight."
Our dad always saw himself as The Bright Knight, and aspired to make a positive impact on his fans' lives. He was and always will be our hero.
The Mayor of Quahog
Seth MacFarlane offered Adam West the career-resurrecting role as Mayor of Quahog on Family Guy in 2000, and he's been a regular on the show ever since. MacFarlane released a statement via Twitter on Saturday afternoon about the loss of his friend.
Adam West will be missed for his sense of humor. For his ability to revel in the ridiculous, and to somehow create an impossible amount of joy from simply playing variations of himself over and over for six decades. But most of all, he will be missed simply because we will never again have anyone exactly like him.