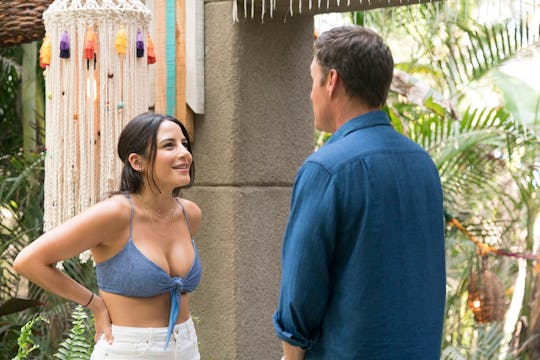 Paul Hebert/ABC
Twitter Was Not Ready To Say Goodbye To Bibiana On 'Bachelor In Paradise'
Even though Bibiana hadn't made any love connections on Bachelor in Paradise, there was still a part of me that hoped against all odds that she'd get a rose at the ceremony Monday night. When she didn't, it was a little more disappointing for me than watching some of the other women go home because she'd been a favorite since the beginning. And the Twitter reactions to Bibiana leaving Bachelor in Paradise prove just how missed she'll be.
Each week, Bachelor in Paradise alternates who has the power to hand out roses at the rose ceremony between the men and the women. At the first ceremony, Bibiana took a chance and gave Colton her rose giving him the opportunity to stick around a bit longer while he decided whether he was interested in Tia romantically or not.
Unfortunately when the time came for the men to give out roses, Bibiana had invested more time in everyone else's relationships than a relationship for herself. So with no strong connections in Paradise, she didn't get a rose and her time on the show ended. Twitter felt the blow pretty hard.
When it came to some of the more intense drama early on this season, Bibiana was always around to offer advice and help where she could. She brought life into the show with her tell-it-like-it-is sense of humor and unapologetic personality. BIP fans on Twitter are already mourning her loss.
Some Twitter users, for example, are calling for Bibiana to be brought back as one of the resort's bartenders. Because he was a fan-favorite, Wells was brought on as a bartender on Paradise for Season 4 after he failed to make any strong romantic connections. Then this season Yuki was added to the supporting cast roster. So is it really that out of the realm of possibilities for Bibiana to be given a similar role next season?
While other couples were forming in the first few weeks of the season, Bibiana was something of a floater. She never got a date card and was never asked on a date by any of the newcomers. But she was still an essential part of the show, giving everyone in the resort great advice and keeping audiences amused with her spot-on commentary. Who is going to give us our daily Bachelor in Paradise news reports now?
It's going to be hard to watch the rest of the season without Bibiana on hand to keep things fresh and interesting. But in a way, it might have been for the best. Some fans on Twitter were quick to point out that maybe she was just too good for the single guys who are still left on the show.
Then again, there were some fans who just did not get it. Bibiana has so much to offer and to be honest, I do not understand why the guys on this show couldn't appreciate it.
In one of Bibiana's last moves on BIP, she talked some sense into Colton and got him to see that he should give his relationship with Tia a chance. It could be argued that Bibiana should have spent more time working on relationships for herself, but it does show how kind and generous a person she is.
It probably wasn't the most unexpected thing to happen on Bachelor in Paradise this season, but Bibiana leaving BIP set off fans on Twitter in a way that showed how disappointed literally everyone was. It's propbably too late in the season for the producers to allow Bibiana to come back for another chance, but I've still got my fingers crossed.