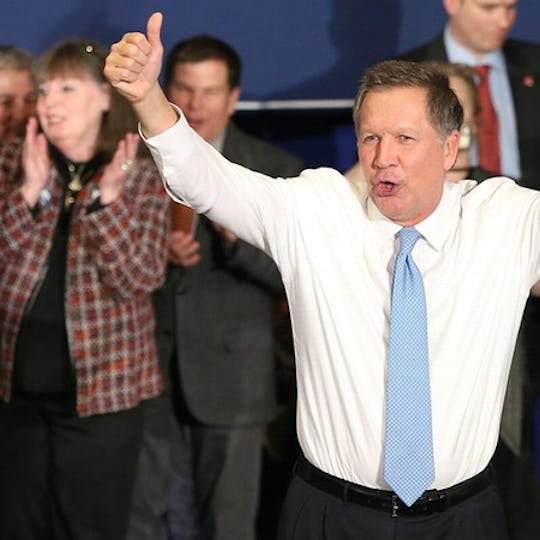 Andre Burton/Getty Image News/Getty Images
Twitter Reactions To Kasich Dropping Out Are Explosive, Because Trump Will Be The Nominee
Ohio Gov. John Kasich will reportedly drop out of the race to become the GOP presidential candidate on Wednesday. Twitter reactions to Kasich dropping out are both horrified and not surprised, because he wasn't polling well anywhere. But this officially means Donald Trump will be the GOP nominee.
Kasich has been limping along throughout the campaign trial, and especially in recent months. The governor only managed to win one state in the delegate race — his hometown state of Ohio — and failed to win any of the Northeast or Midwest, which he hoped would help him clinch a GOP presidential victory. Kasich plans to speak at a press conference on Wednesday evening, where he will most likely give a concession speech. And with Kasich's concession speech will come the news that many voters have been dreading; New York businessman Donald Trump will be the uncontested GOP Presidential candidate. Kasich, while considered by many to be the most moderate of the possible candidates, never seemed to have the sort of traction needed to win voters. Even his insistence to stay out of the mud-slinging fray — a respectful, wise decision to take the high road — didn't appear to make any headway with either voters or the media.
Kasich's only hope going in to Indiana on Tuesday night was the possibility of a contested nomination at an open convention. He and former GOP hopeful Ted Cruz (who dropped out of his own presidential race last night) had formed the "Never Trump" movement; a movement that was ended when the Republican National Committee Chairman Reince Priebus tweeted the news that Trump was the presumptive GOP presidential nominee on Tuesday.
Kasich, who fashioned himself as the "Prince of light and hope" throughout his campaign, brought an impressive resume to the table. He had 18 years on the House, four years as a popular governor in Ohio, and was well known for standing by his beliefs regardless of party lines. When Kasich won his primary in his home state, he had a brief moment in the spotlight when he announced during his acceptance speech;
I'm getting ready to rent a covered wagon. We're going to have a big sail and have the wind blow us to the Rocky Mountains and over the mountains to California.
Sadly, those hopes were never realized. While Kasich will be officially announcing the suspension of his campaign tonight, Trump is the last man standing. Let the gloating ensue.
Trump is in the midst of deliberating possible choices for vice president with Ben Carson heading the committee, and Kasich has reportedly not made the short list.
One thing we know for sure: Donald Trump will certainly be a classy guy and give Kasich the respect he's due when the governor officially suspends his nomination on Wednesday evening. Right?