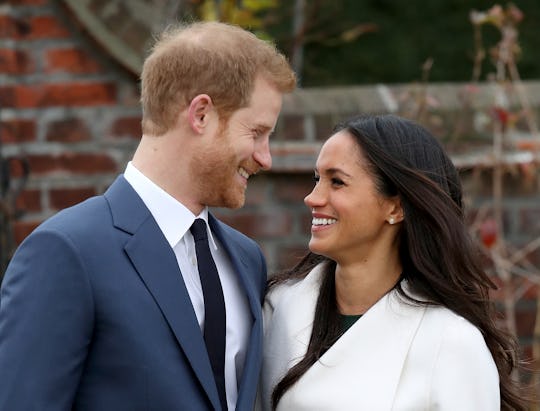 Chris Jackson/Getty Images Entertainment/Getty Images
Twitter Is Freaking Out About Prince Harry & Meghan Markle's Engagement In Hilarious Ways
On Monday, Clarence House announced the super *exciting* engagement of Meghan Markle and Prince Harry. Naturally, the news sent the internet into a full on frenzy, because what's more thrilling than another royal wedding? The answer is nothing. And even if you're not psyched for the nuptials, you'll definitely still appreciate these hilarious tweets about Prince Harry and Meghan Markle's engagement.
When big news happens, like a royal engagement, you can always count on Twitter for hysterical commentary. Following the news that Prince Harry popped the question (I still can't believe this is finally happening), people on social media took the opportunity to throw in their two cents. Whether it was about the pair's exes or their own dashed hopes and dreams, Twitter held it down with some incredibly funny takes. Most of all, it's especially enjoyable to witness people freaking out about the engagement — it goes without saying that some people simply can't deal right now. I mean, Prince Harry was one of the world's most elusive bachelors prior to Monday, and this is a huge deal for people who held out hope that they would one day snag his heart. A person can dream, right?
So, if you're nursing a broken heart right now or you just want to have a good laugh at news you're kinda "meh" about, here you go.
Dashed Princess Dreams
#Prayers For Markle's Ex-Husband
Some People Are Understandably Triggered
So Many *Feelings,* So Little Time
Cue The Political Jokes
Ah yes, Twitter didn't disappoint. I imagine Twitter will be poppin' from now until the highly-anticipated wedding in Spring 2018.
On a more serious note, how wonderful is it that Prince Harry finally found his person? At the engagement announcement on Monday, Prince Harry revealed his adorable love for Markle when a reporter asked him how he knew she was "the one." Prince Harry said, according to The Telegraph:
When did I know she was the one? Very first time we met.
And as for Markle, she opened up about her feelings for Prince Harry in a September interview with Vanity Fair. Markle revealed, according to People:
I can tell you that at the end of the day I think it's really simple. We're two people who are really happy and in love.
Of course, Prince Harry and Markle's relationship hasn't always been easy. In fact, it's far from it. Although it might be a cliché saying, Markle and Prince Harry are under an intense microscope, and the world is watching their every move. It's not like the pair can go grab a casual cup of coffee without the entire world knowing about it.
The good news? Markle seems to be handling things like a champ. It also doesn't hurt that she has Prince Harry for support. Markle explained, according to Us Weekly:
It has its challenges, and it comes in waves — some days it can feel more challenging than others. And right out of the gate it was surprising the way things changed. But I still have this support system all around me, and, of course, my boyfriend's support. I don't read any press. I haven't even read press for Suits. The people who are close to me anchor me in knowing who I am. The rest is noise.
So, yeah. Being engaged to a royal isn't always what it's cracked up to be.
Although it's always a good time to read hilarious tweets about major news (2017 has been full of gems), it's probably best if people scale back on talking about Prince Harry and Markle's engagement once the initial excitement wears off. After all, Prince Harry and Markle are just like any other newly engaged couple, and they deserve to enjoy this special time in private.
Check out Romper's new video series, Romper's Doula Diaries:
Watch full episodes of Romper's Doula Diaries on Facebook Watch.