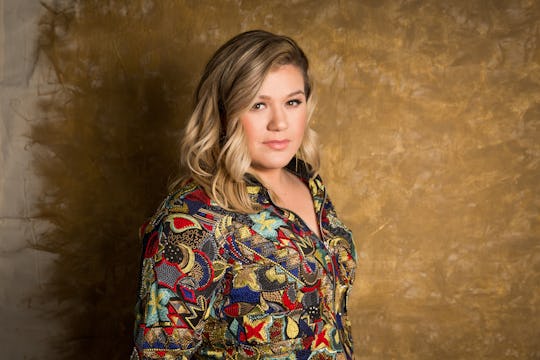 Cindy Ord/Getty Images Entertainment/Getty Images
Twitter Reacts To Kelly Clarkson's Son, Remington Alexander, Because Fans Needed A Moment
So, if we're talking about the desires of true Kelly Clarkson fans, we would have wanted the first idol to give birth on American Idol finale night — toasting the end of an era by ushering in a new era, right? Alas, we only got Clarkson's incredible performance on Thursday, followed by some great live tweeting of Idol's final night from the pop star. But, one week later, fans reacted to Kelly Clarkson's birth announcement, when Clarkson tweeted that her second child, Remington Alexander Blackstock, joined her burgeoning family on April 12. Just five days late, Remington!
But a moment like this was worth the wait for fans — though we don't have a photo of young Remington Alexander, we do have an indication from Clarkson's Instagram that Clarkson and Brandon Blackstock's son will be just as cute as the nearly 2-year-old River Rose. I mean, come on. Come on. COME ON.
And Clarkson's fans are (what else) more than pumped for America's first chosen pop star, especially if that means we will continue to get amazing performances inspired by the Clarkson's family — performances that are all too relatable to anyone who has ever, like Clarkson, dealt with life and responsibility as a mom.
So how did fans react to Clarkson's exciting announcement?
First, Of Course, There Are The Celebrities
In little to no time, you better believe Nashville will be weighing in — especially Clarkson's stepmother-in-law, Reba McEntire.
Other Fans Feel A Special Bond
We always knew, after all, that Clarkson was Idol's most relatable winner.
Others Are Psyched For River
What older sibling doesn't want an ally for life?
While More Are Simply Just Psyched
After all, it felt like we were waiting a lifetime!
And, Of Course, Clarkson Left Fans Wanting More
Keep your eyes posted on that Instagram, folks!