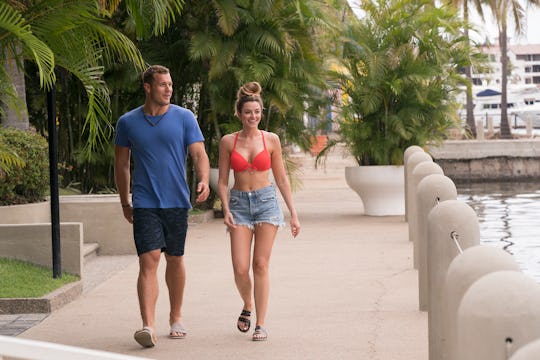 Paul Hebert/ABC
Are Tia & Colton The New Ashley & Jared? Twitter Thinks They Might Be
Just as we thought the relationship between Tia and Colton on Bachelor in Paradise was over for good, the pair found themselves back in each other's crosshairs after things between Tia and Chris fell apart. Unfortunately, thanks to their ping-ponging emotions, Twitter thinks Tia is the new Ashley I., which, honestly, is not very far off the mark at this point.
Ashley Iaconetti is most famous in the Bachelor franchise for her multiple stints on Bachelor in Paradise spent alternately crying over Jared Haibon and insisting she would never again cry over Jared Haibon. She flirted, he rejected her. She wept, he rejected her. She begged, he rejected her. Ashley tried her best to force the relationship, at least it appeared that way on Bachelor in Paradise, and Jared kept making it quite clear that he was not as into it as she was. Considering how focused on Colton Tia has been so far, the parallels are pretty apparent. But Ashley I. and Jared actually did announce their engagement earlier this summer — an affair so newsworthy it was covered by the New York Times. And Tia appears to be hoping this is not an exceptional case.
Tia came into Paradise hoping to find Colton, who had just been dumped a month earlier by last season's Bachelorette. The pair had briefly dated before he went on the show, all of which he was super upfront about when he first met Becca, who was close friends with Tia. Tia assured Becca that the flame had long been snuffed out, she didn't have any leftover feelings for Colton, and that Becca had her blessing to date him.
Fast-forward to the end of the season, just after hometown dates, and Tia had a change of heart. Apparently, she was holding a torch after all and had been silently suffering at home while Becca and Colton's relationship grew. Ultimately, Becca broke up with Colton — although she says Tia's confession didn't have much to do with it — and the pair wound up in Paradise together.
A spark between Tia and Colton does seem to linger, but Colton has also made very clear that he's on the show to play the field. He isn't there to jump straight into a relationship with Tia, and he's made that fact known to her. Tia briefly tried to refocus on Chris, but he quickly turned his attention to Krystal, which Tia couldn't get down with. She wants to be the sole object of someone's affection in Paradise, which just isn't always very likely in this format.
But after an initial attempt to explore other options, Tia and Colton were left in Paradise without strong matches with other peopl. Colton is the one who told her Chris had kissed someone else after professing his commitment to her, and Tia obviously caught butterflies over his protectiveness. Jacqueline, a newcomer, asked Colton on a date, but he turned her down because he felt too overwhelmed by the Tia situation to focus on someone else. Eventually, Colton and Tia sat down and hashed out their complicated dynamic. It didn't seem like they made much progress, but after a pep talk from Bibiana, Colton realized that he had something special with Tia. He sat her down on the night of the rose ceremony and pledged to give their connection an honest go. Tia replied that she was ready.
To me, this positions Tia squarely in the place of backup girlfriend, where she's explicitly said she doesn't want to be. It looks like Tia might be setting herself up to get jerked around, which would be almost as miserable to watch as it would be to go through. But here's hoping Colton just needed a few days to get his bearings and now has his head in the game.