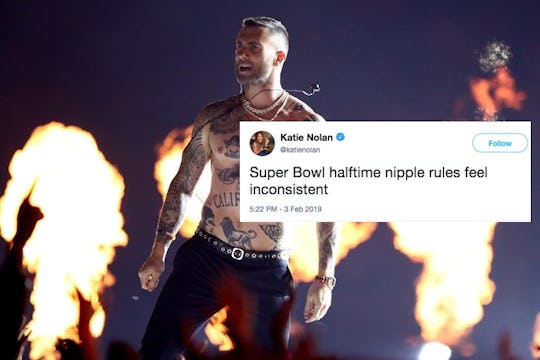 Al Bello/Getty Images Sport/Getty Images
Twitter Can't Stop Roasting Maroon 5's Super Bowl Halftime Show
After cycling through a pretty long list of artists who refused to play the Super Bowl halftime show this year, the NFL finally got Maroon 5 to take on the gig. Later, Georgia native Big Boi and Travis Scott signed on as guest artists, but Twitter's reaction to Maroon 5's halftime show proved that not even bringing on a hometown hero could save them from the wrath of an audience who's been waiting weeks to dunk on them.
The show itself was a pretty sleepy medley of Maroon 5's singles, essentially played in chronological order, which really highlights their inoffensive but kind of beige soft rock sound. There's typically a surprise guest or two who pops up during the halftime show — who could forget Beyoncé bringing out her fellow members of Destiny's Child in 2016? — but Super Bowl LIII didn't bring on any fun surprises, unfortunately.
Some speculated that Mick Jagger would come out to do a fun duet on "Moves Like Jagger," and while Maroon 5 did perform the song, Jagger was nowhere to be found, nor was Christina Aguilera, the guest artist who sings on that track. Others wondered if Cardi B. would make an appearance to perform her featured solo on "Girls Like You," Maroon 5's latest hit. But she was one of the many artists who protested the NFL's treatment of Colin Kaepernick in recent years by refusing to perform at halftime.
A rep for Cardi B. told Page Six, "There [were] talks about [her performing], but she was not particularly interested in participating because of how she feels about Colin Kaepernick and the whole movement."
"You have to sacrifice that," she explained in an interview with The Associated Press. "I got to sacrifice a lot of money to perform. But there's a man who sacrificed his job for us, so we got to stand behind him."
Cardi may have sacrificed some good publicity (and moolah apparently), but given the Twitter response to Levine and company's performances, she definitely also spared herself some bad publicity. She is, of course, in good company turning down the NFL. Rihanna was among the stars who reportedly turned down an offer to headline the Super Bowl this year in solidarity with Kaepernick. Pink was another artist in the mix who eventually pulled out when contract negotiations dragged on too long.
Headlines about the halftime performance were a little less biting, but admitted the show was pretty lackluster. The Daily Beast called it "just as mind-numbingly dull as you feared," while Variety quipped "no shirt, no stumbles, no surprises." There certainly wasn't anything disastrous about the show, but there wasn't anything particularly interesting about it either. And, of course, Adam Levine stripping off his shirt midway through the performance sounded an alarm amongst Janet Jackson stans, who quickly jumped in to point out the halftime show's apparent nipple double standard. Viewers also hoped that the halftime show would somehow pay tribute to Kaepernick's cause, particularly since no one appeared to take a knee during the national anthem. But no such breakout moment occurred, leaving Maroon 5 with a performance that will likely be forgotten come Tuesday.