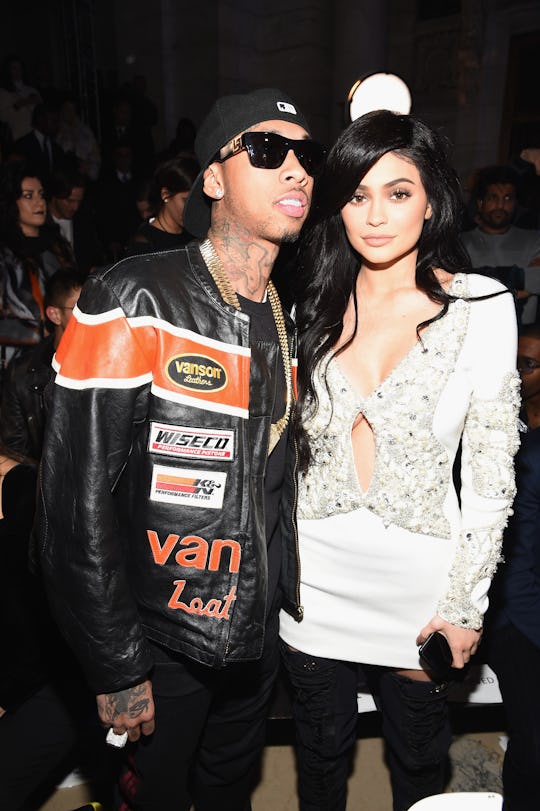 Dimitrios Kambouris/Getty Images Entertainment/Getty Images
Tyga Has Finally Broken His Silence On Kylie Jenner's Baby News
When the news of Kylie Jenner's then-rumored pregnancy broke, those close to her completely refrained from making official comment on it. Fans and the media alike anxiously awaited confirmation from Jenner or another official source — not least of which was her long-term ex-boyfriend, Tyga. Months later and with all of the rumors finally confirmed, Tyga has addressed Kylie Jenner's baby news and his comments are reassuring for those who worried that bad blood remained between the two. While he didn't go into detail, he made it clear that he and Jenner are on good terms.
Tyga appeared on Complex's web series "Everyday Struggle" to discuss his new album when he was asked about Jenner and her newborn daughter, Stormi. According to Capital XTRA, co-host of the show DJ Akademiks asked him, "Did Kylie really f*ck you up like that man?" referring to rumors that the two had a nasty breakup. But he was quick to respond that they broke up for a fairly common reason.
"You just get older, you get me. It was a relationship in front of the world and that was it," he said. He went on to explain that there was no animosity between the two of them, saying, "She has her new life, I have my new life and that's it. There's no bad blood, no problems."
Tyga went on to share the while he and Jenner do communicate with one another from time to time, there is no drama involved. However, when the host attempted to steer the conversation towards baby Stormi, asking if Tyga would be visiting with the baby, the rapper laughed it off. "Ask me another question," he said.
There was no discussion of Stormi beyond that, such as the lingering rumors that Tyga is the girl's real father or his alleged request for a paternity test. While his interview responses provided little information, they are much more than the radio silence that he has maintained throughout Jenner's period of pregnancy privacy.
Prior to his Complex interview, the rapper had little to say to the press about Jenner's baby aside from a questionable post to his Snapchat Story in September 2017 when TMZ first reported the news of the pregnancy. He allegedly posted a screenshot of the article, along with a caption that read "Hell nah that's my kid," and several purple smiling devil emojis.
The post was quickly removed, but not before fans took screenshots of their own and shared them on Twitter. Tyga spoke with The Sun that following November to clarify, stating that the entire story was false. "I didn't comment on anything, I didn't comment on anything, it was a fake story. It's all a fake story," he said.
Jenner and Tyga dated for nearly three years before ending their relationship under mysterious circumstances when Jenner initiated the split. Little explanation was provided for the breakup until Jenner provided a reason on a recent episode of her E! TV show Life of Kylie. She explained that it was largely due to her young age, according to In Touch Weekly:
There was absolutely not one thing wrong with me and T. He and I will always, always have a bond. There was no crazy fight, we just decided — well, I decided that I'm really young. I don't want to look back in five years from now and feel like he took something from me when he's really not that type of person.
Jenner has yet to respond to Tyga's recent comments, but the two have made it clear that they both hold no hard feelings. While that doesn't mean that there is hope for the Kyga 'shippers out there, it is good to know that they ended on good terms. Who knows, maybe he will end up visiting Stormi one day after all.
Check out Romper's new video series, Bearing The Motherload, where disagreeing parents from different sides of an issue sit down with a mediator and talk about how to support (and not judge) each other's parenting perspectives. New episodes air Mondays on Facebook.