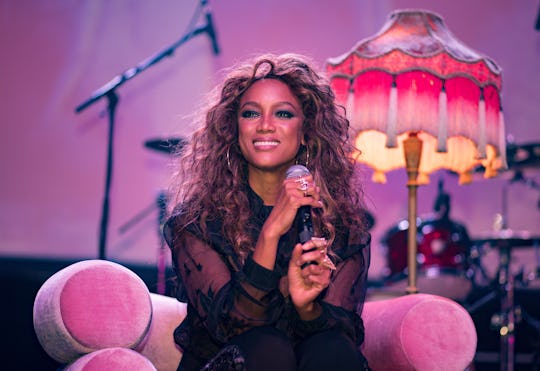 Christopher Polk/Getty Images Entertainment/Getty Images
Tyra Banks Opens Up About Her "Emotional" IVF Journey Before Turning To Surrogacy
Tyra Banks has opened up about her struggle to get pregnant before, but in a new interview with People, the star shares even more details and they are excruciatingly sad. In fact, the only good thing about Tyra Banks' painful IVF journey is knowing that she now has a beautiful 2-year-old son, York, via a surrogate.
Banks and her then boyfriend, photographer Erik Asla, tried for "a while" to have a child and then eventually turned to in vitro fertilization, which turned into a year of failed attempts. Banks told People, "It was emotional." Her mother, 72-year-old Carolyn London, who is the subject of Banks' new book Perfect Is Boring, was present for the interview, added, "It hurt me so much to watch her struggle through that. She set up a nursery and in the bathroom she put a tile in the floor that said, 'Mommy Already Loves You.' And then she found out the IVF had failed. It ripped my heart out." Who wouldn't be devastated?
Banks, now 44 years old, and Asla, with whom she shares parenting duties, eventually decided on a surrogate. "There are so many stages [of pregnancy]. It's like, 'Okay, it's a healthy embryo. Okay, it's month one.' I was just constantly living on edge until I held him for the first time," the America's Next Top Model host told People. Anyone who assumes getting pregnant is "simple" has no idea what some people go through to have the child they want.
Banks has talked a little bit about the IVF process before. She told Entertainment Tonight in 2015 that she was giving herself injections while filming cycle 22 of America's Next Top Model. Banks said of the IVF process, "I've had some not happy moments with that, very traumatic moments. It's difficult as you get older. It's not something that can just happen." She added:
And on Cycle 22's final runway, at the [Walt] Disney Concert Hall, I had to go into a back closet and give myself my final shot, and that was the seventh round of IVF.
At the time, she told Entertainment Tonight that that was the round that she got pregnant, though obviously it didn't last for long. That's a lot of ups and downs for one woman to handle.
Luckily, there's a happy ending to Banks' journey, proving that there's always something to look forward to, even in really tough times. She told Us Weekly at a Black Panther screening last month that York is already super smart. "He's amazing," Banks told the magazine. She added that he can already count to 20 and talks "up a storm" in Norwegian, Spanish and English. Banks told People the same thing in a separate interview, but noted that he was also a pretty normal kid.
"He's a smart one — but he's still crazy and damn near rolling on the floor and not listening to me most of the time," the supermodel added. Sounds about right. Filming America's Got Talent and being a new mom took a little bit of getting used to, but it sounds like the trouble is worth it for her, according to the same red carpet interview. She said that her schedule means she's filming till late at night, but that she gets to have entire mornings with her son, which sounds pretty nice.
York was a blessing in so many ways, Banks said. She told USA Today that she was working a lot before learning that she was finally pregnant. "I was really going overboard. I probably would have had to go to the hospital if I didn't slow down," she told the news outlet.
Having York forced her to slow down and take it easy. Her mom and Asla, who she is separated from but still friendly with, all chip in to help. "We are co-parenting and doing such a great job raising him that I don't have to do less. So it's like this beautiful village around York. But I'm there every day," Banks explained, according to USA Today.
Going through rounds of IVF and then surrogacy was obviously difficult. But to all the women out there going through it right now, Banks is a great example of how things do work out in the end, even if it's not just like you imagine it will be when you start. But that's life, right?
Check out Romper's new video series, Bearing The Motherload, where disagreeing parents from different sides of an issue sit down with a mediator and talk about how to support (and not judge) each other's parenting perspectives. New episodes air Mondays on Facebook.