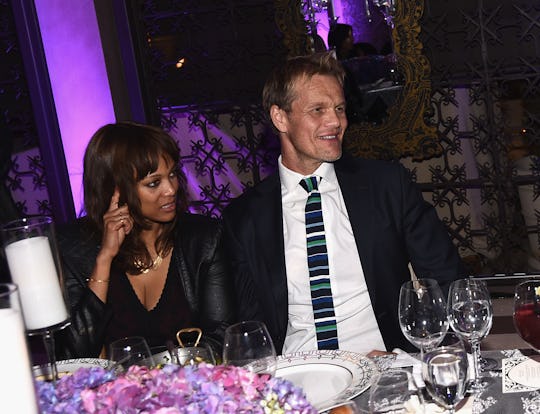 Michael Buckner/Getty Images for August Getty Atelier
Who Is Tyra Banks' Boyfriend, Erik Asla? The Two Just Welcomed A Son
After supermodel and America's Next Top Model star Tyra Banks announced Wednesday that she and her boyfriend had welcomed a son, York Banks Asla, via surrogate, one question fans are probably asking is, Who is Tyra Banks' boyfriend, Erik Asla, who is now also the father of her child?
According to The Daily Mail, Banks and Asla met two years ago on the set of the Norwegian version of America's Next Top Model. Asla is a Norwegian photographer, and the bio on Asla's website says his work has appeared in Allure, Dwell, ELLE, Glamour, GQ Australia, Interview, Marie-Claire, and The New York Times Magazine, among other publications. In September the two were spotted out together in L.A. for the first time in six months, The Daily Mail reported. Around that time, Banks posted a photo of Asla and herself on Instagram with the caption, "Everyone deserves a love like this."
Asla's Twitter bio describes him, "photographer, father, dreamer," and his Instagram bio reads "Blessed Father. Perpetual Dreamer. Inspired Creative." suggesting that Asla may already have kids of his own, unless he updated both very recently to reflect York's arrival.
Unsurprisingly, Banks referenced Asla in both the Instagram post in which she shared the initial news and when she told People,
We are so excited for our new baby boy bundle of joy. The journey to now has not been an easy process, as I've shared before. But there was a beautiful bright light at the end of the tunnel for me and his father, Erik.
The caption to her Instagram post read:
The best present we worked and prayed so hard for is finally here. He's got my fingers and big eyes and his daddy Erik's mouth and chin. As we thank the angel of a woman that carried our miracle baby boy for us, we pray for everyone who struggles to reach this joyous milestone. York Banks Asla, welcome to the world.
Banks has been vocal about her fertility struggles in the past, telling People in September that she had undergone IVF. "I've had some not happy moments with that, very traumatic moments," she told the magazine. "It's difficult as you get older. It's not something that can just happen."
But it finally happened for Asla and Banks. She told People Wednesday,
As I gaze into the beautiful eyes of my son, I think about all the people who struggle with fertility or carrying a child and continue to pray for them everyday. My hopes and dreams are filled with well wishes that they get to feel what my little treasure, York Banks Asla, feels like in my arms.
Congrats to Banks and Asla, not only for their son but also for taking a minute amid their joy to encourage everyone still trying to conceive.