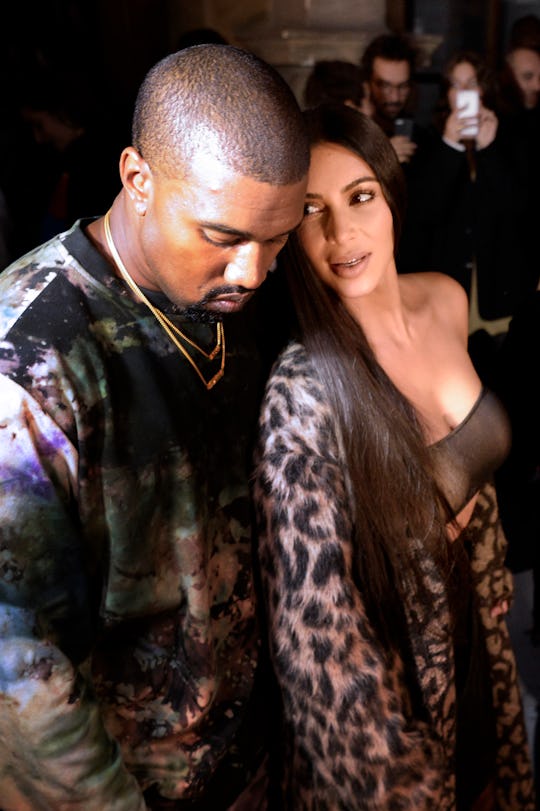 ALAIN JOCARD/AFP/Getty Images
Update On Kanye West Shows He's Serious About Getting The Help He Needs
Kanye West and Kim Kardashian must be counting down the hours to close the book on 2016. The power couple have had "one of those years" times about a hundred. Sure, some things have turned out well. Yeezys are a thing now. Also their little boy Saint West spent his first year of living in 2016. But Kardashian was robbed of millions of dollars worth of goods in Paris at gunpoint in October. And now Kanye West has been hospitalized for what is reportedly a severe mental breakdown. Enough is enough, already.
West was hospitalized for "exhaustion and dehydration" on Monday after a series of erratic behavior and outbursts at his concerts. He has walked off the stage, ranted about President-elect Donald Trump and fellow musician Beyoncé, and in some cases simply not shown up for his concerts. The 21 shows that made up the remainder of his "Saint Pablo" tour have been cancelled, and a West representative told People that tickets will be refunded at point of purchase. Initially a source close to West denied that the rapper had suffered a mental breakdown, telling People the multi-faceted West was:
just exhausted. He's been working around the clock on fashion design, both on his own line and the Adidas line. He's a notorious workaholic, so balancing both that work — which is extremely important to him — and the rigors of the tour every night, it really wore him out.
Since then, it appears West's condition might be more complicated than initially expected. A source told TMZ that West was feeling "much better" by Wednesday, but will remain in hospital for several more days. That same source also reported that West's condition was severe enough, his insurance company would "amost certainly" cover the cost of the cancelled tour dates.
West will continue to receive treatment at UCLA Medical Center, with wife Kim Kardashian West spending the majority of her time by his side. A source close to the couple told People that when Kardashian found out about West's hospitalization, she rushed home from New York to Los Angeles to be with him.
While the rest of the famous Keeping Up With The Kardashians clan prepared to celebrate Thanksgiving at Kylie Jenner's Calabasas home on Thursday, Kim Kardashian West spent the morning with her husband. The couple have two children; daughter North is three-years-old while son Saint is one-year-old.
As West recovers, hopefully his fans (and perhaps more importantly, his critics) will remember that mental illness isn't a joke. That no matter who you are, it's hard to be away from your family on Thanksgiving. Even if you're as famous as Kanye West.