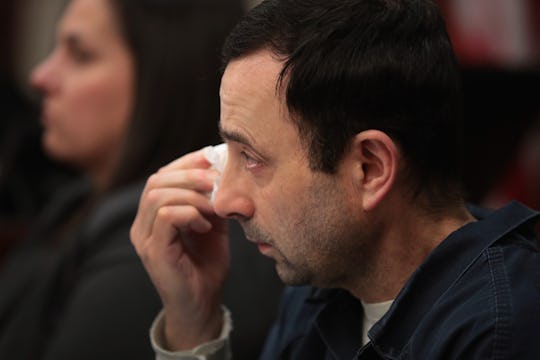 Scott Olson/Getty Images News/Getty Images
USA Gymnastics Board Members Resign After Larry Nassar Scandal, & It's A Step In The Right Direction
It's terrible to think about the hundreds of young women who were abused by Dr. Larry Nassar under the guise of being "treated" by him. To think of those young women and how helpless they must have felt, how confused and betrayed, is enough to keep a person up at night. Because those girls were supposed to be protected and cared for, not just by Nassar but by every adult in a position of authority around them. Time is up for Nassar, who has been convicted and sentenced. And he's not the only one; USA Gymnastics board members resigned in the wake of the Nassar scandal on Friday, because it's a new world now. And people are being held accountable for the sexual abuse that went on for years.
ABC News reported that the 18 remaining members of the USA Gymnastics board of directors announced they would be resigning just two days after United States Olympics Committee COO Scott Blackman shared an open letter calling for an overhaul in leadership. The executive board of directors, including Chairman Paul Parilla, Vice Chairman Jay Binder, and Treasurer Bitsy Kelley, resigned last Monday. USA Gymnastics President Steve Penny had stepped aside months earlier as well. The mass exodus of board members comes after Larry Nassar was sentenced to 60 years in prison for child pornography crimes; Nassar is still awaiting his sentence for his molestation conviction and could serve an additional 25 to 40 years in prison.
The USOC delivered something of an ultimatum to the USA Gymnastics board after Nassar's case came under such intense public scrutiny; resign, or get fired.
Romper has reached out to the USOC and USA Gymnastics but did not immediately get a response.
USA Gymnastics issued a statement regarding the resignations on Friday:
USA Gymnastics supports the United States Olympic Committee's letter and accepts the absolute need of the Olympic family to promote a safe environment for all of our athletes. We agree with the USOC's statement that the interests of our athletes and clubs, and their sport, may be better served by moving forward with meaningful change within our organization, rather than decertification.
The organization has been widely criticized for its treatment of Nassar and his many victims, particularly in the wake of Olympic gymnast Aly Raisman's victim impact statement at the disgraced doctor's trial. Raisman didn't just call out Nassar for his years of abuse, she called out USA Gymnastics for potentially ignoring his behavior to simply focus on winning. The Olympic medalist was especially bothered by the fact that neither the USOC nor USA Gymnastics had stepped up to offer support to the victims of Nassar's abuse.
Neither USA Gymnastics nor the USOC have reached out to express sympathy or even offer support. If over these many years just one adult listened and had the courage and character to act, this tragedy could have been avoided.
Raisman has since called on the USOC to investigate before moving forward with USA Gymnastics.
Many people have taken to Twitter to applaud the changing of the guard at the organization.
This resignation by the board members might have been forced on to them, but it's an important step in the right direction. Not just for the world of gymnastics, but for any organization where adults are charged with the care and control of vulnerable children. Because every adult should be mindful of possible abuse, should be making the health and well-being of children their number one priority if they are in a position of authority.
Whether it's competing in the Olympics or playing school sports in your hometown, kids should be safe. Period.
Check out Romper's new video series, Romper's Doula Diaries:
Watch full episodes of Romper's Doula Diaries on Facebook Watch.