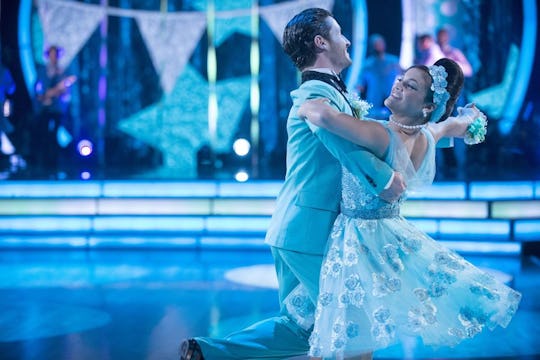 Eric McCandless/ABC
Val Took Laurie Hernandez To Prom On 'Dancing With The Stars' & It Was The Cutest Thing
Monday night's Dancing With the Stars was "Eras Night," and fan-favorite partners Val Chmerkovskiy and Olympic gymnast Laurie Hernandez got the 1960s. Since 16-year-old Laurie was obviously not present during the 1960s, Val tried to school her in the ways of that time period (even though Val wasn't born in the 60s yet either). "It's like prom," he told her in their introductory video package. "I've never been to prom," Laurie said, explaining that she's homeschooled so she never got the chance. So Val took Laurie to prom on Dancing With the Stars and it was basically the cutest thing ever.
The couple performed a typically energetic quickstep to "One Fine Day," complete with broken nerd glasses for Val and Laurie's first ever corsage. I have to agree with what Julianne Hough said, that Laurie's probably not missing out on much because her prom (and mine) looked nothing like their joyful dance. The reviews from the judges were a little bit mixed, but I have a sneaking suspicion that they judge Laurie more harshly than some of the others because she's got such an advantage already. Len Goodman's triumphant return after a few weeks' absence was marked by him critiquing the dance on technique. Val argued that maybe Len was just suffering from jet lag. I have to agree with Val.
Julianne also agreed with Val, saying that their dance was exactly what a quickstep was supposed to be. Bruno Tolioni also seemed to love the performance. He told Laurie he bet she never thought she'd go to her first prom with Austin Powers, a nod to Val's powder blue suit. He also called Laurie a "zesty performer" who "lights up the room."
Laurie herself had some extremely sweet things to say about her partner, Val. When asked what she learned about the '60s this week, she said "It was an honor for people to dance together, so it made me feel more grateful to dance with Val." She is honestly just way too adorable.
They ended up with scores that were not their highest ever (like the time they got the first perfect score of the season), but it was still highly respectable. With an eight from Carrie Ann Inaba and Len, and nines from Julianne and Bruno, #TeamValaur finished with 34 out of 40.