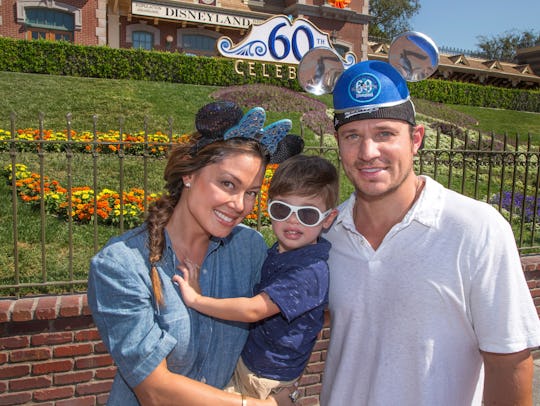 Handout/Getty Images Entertainment/Getty Images
See Vanessa Lachey's V-Day Video Of Baby Phoenix
I know sometimes celebrating Valentine's Day seems a bit hokey and contrived. It's a gimmick, we tell ourselves, and anyone who buys into it can count themselves among the "sheeple." But here's the thing; if we strip away the cards and the enforced gift purchases, and the saccharine sweet Cupid decorations aggressively strung up in every store everywhere, it's actually just a day to celebrate love. All of the people you love, not just romantic love. And that's why Vanessa Lachey's Valentine's video of baby Phoenix made me smile. Because love is love. And it's a beautiful thing to see, no matter what.
The former Miss Teen USA and Entertainment Tonight correspondent is married to singer Nick Lachey and is a mom of three; son Camden John is 4 years old, and daughter Brooklyn Elisabeth is 2 years old. The Lachey family welcomed their fifth member, Phoenix Robert, on Dec. 24. He arrived a little earlier than expected, which must have been a little stressful, but Lachey's Instagram post about wee Phoenix's arrival seemed to take it all in stride.
It's a very Merry Christmas indeed! We had our Christmas Miracle. Phoenix Robert Lachey decided to show up early and was born on Christmas Eve. Mommy, Daddy, Camden & Brooklyn LOVE You very much!
Now mom and baby have had some time together — to bond, to nest, and to fall in love — which is exactly what Vanessa Lachey was sharing in her video posted to Instagram; the love for her "funny Valentine." Taking a nap on his mom's lap, looking safe and content... and well loved.
As he laid there, Lachey kissed his little head and said, "I love you, bubby." And I'm not going to lie, it made me feel a little soft and gooey inside.
Lachey and her 98 Degrees front man husband Nick have been fully embracing parenthood since their son Camden was born in 2013. She has started a parenting and lifestyle website full of tips on motherhood, entertaining, and marriage.
The two have taken to social media again and again to share their adventures with their kids, like their recent trip to Disneyland in October.
Lachey shared this pic of Camden helping his dad's shave pre-Valentine's Day because "Cam knows I like a clean-shaven guy... so he's helpin' Daddy out."
It's easy to get jaded, not just about Valentine's Day but about life in general. But let's face it; there's something simple, pure, and beautiful about seeing a mom love up on her baby. It's one of those quiet moments we sometimes forget to fully embrace, particularly when life moves fast and kids move even faster.