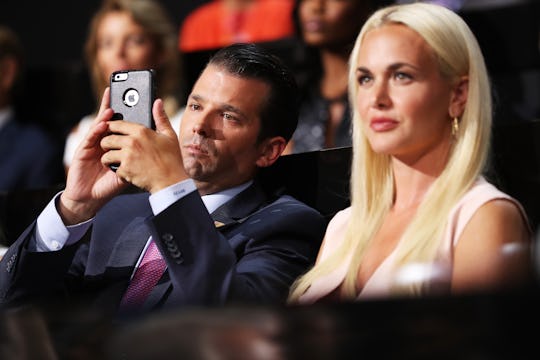 John Moore/Getty Images News/Getty Images
Vanessa Trump Is Divorcing Donald Trump Jr. After 13 Years Of Marriage
They have been married for 13 years and welcomed five children together. They've weathered several storms as part of a high-profile family in New York. But it seems there may have been one storm too many. TMZ reports that Vanessa Trump is divorcing Donald Trump Jr. And it looks like the news might not be as much of a surprise as some might think; the news outlet also reports that Vanessa Trump is seeking an uncontested divorce, which presumably means that the couple have already gone over details regarding the dissolution of their marriage.
In a recent Page Six article, several sources close to the couple reported that they noticed strain in the couple's marriage, particularly since Trump Jr. took over running the Trump Administration with his brother Eric while his father, President Donald Trump, was in the White House. Vanessa and Donald Trump Jr. were married in November 2005 after meeting in 2003 at a fashion show, where they were introduced by President Trump. Since then, Vanessa (a former model) and Trump Jr. have had five children together; Kai, 10, Donald III, 9, Tristan, 6, Spencer, 5, and Chloe, 3.
Romper's requests for comment from Donald Trump Jr. and Vanessa Trump have not yet been answered.
According to the anonymous sources who spoke to Page Six, Vanessa has been having a difficult time with the amount of time Donald Trump Jr. has been away from home. Beyond his time running the Trump Organization, Trump Jr. is an avid hunter who travels the globe in search of wild game to shoot, and was also out of the country for a trip to India in February. Which left Vanessa at home trying to raise five children on her own, as one source told the media outlet:
Don Jr. has been busy traveling, which has contributed to their problems. Vanessa is a devoted mother, but she is increasingly lonely and alone in the house with the children.
There also seems to be an issue with security since Trump took office. In February, Vanessa was left shaken after she opened a suspicious-looking letter sent to her home, addressed to Trump Jr. and containing white powder. The letter reportedly read, according to NBC News:
You're an awful, awful person. I am surprised that your father lets you speak on TV. You're the family idiot. Eric looks smart. This is the reason why people hate you. You are getting what you deserve. So shut the f—k up.
Vanessa and two other people who were present were sent to the hospital after coming into contact with the unidentified white powder.
The person who sent the letter was reportedly apprehended, but friends of Vanessa's told Page Six that she continues to worry for the safety of her children. These sources also admitted to the news outlet that the issues between Vanessa and Trump Jr., whatever they might be, have been around for some time:
The problems have been there for a long time, the couple had hoped to stay together during the president's time in office, but it is getting harder to resolve their issues. He's never there.
Apparently, the issues were such that Vanessa Trump couldn't put things off any longer. The former model filed divorce papers in Manhattan on Thursday, and details regarding property and child custody have yet to be revealed. Considering Vanessa Trump appears to have been raising the children almost single-handedly, it seems appropriate that she would continue to do so. But time will tell, of course.
In the meantime, here's hoping they can remain on good terms, if only for the sake of their kids.