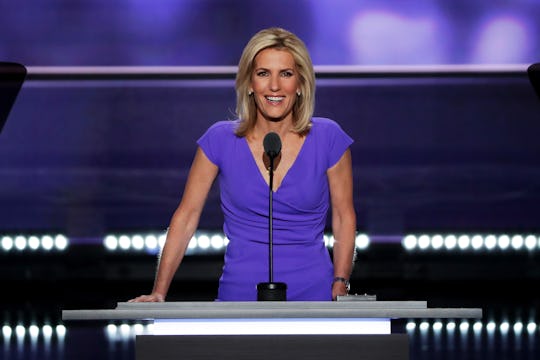 Alex Wong/Getty Images News/Getty Images
Video Of Laura Ingraham's "Nazi Salute" At The RNC Is Hard To Deny
Conservative talk show host Laura Ingraham gave a speech at the Republican National Convention on Wednesday night, but nobody's talking about what she said. Instead, viewers are focused on what happened at the end of her speech, which some are calling an anti-Semitic gesture. Some are explaining away her curious "wave," but video of Laura Ingraham's allaged Nazi salute clearly shows what really happened, and it's hard to play off.
The full speech, clocking in at about 17 minutes, began after Ingraham was welcome to the stage by raucous applause and chanting of her name. The commentator kept the fired-up crowd going by ranting about immigration, conspiracies, cover-ups, and Donald Trump's ability to lead the nation. No surprises there. But the closing was the really interesting part. Ingraham raised her right arm, palm facing down, and briefly held it at a 45-degree angle, before transitioning into a more traditional wave, then awkwardly pointing to a few different spots in the crowd like a GOP version of NSYNC's "Bye Bye Bye" video. Now, Twitter users are speculating that this strange bit of arm choreography may have actually been an intentional Nazi salute. Ingraham has yet to comment, but the video's out there, and the comments don't appear to be dying down.
Ingraham also took time during her speech to call out those Republican delegates who don't support Trump, who's now the official Republican nominee. "We should all – even you boys with wounded feelings and bruised egos – we love you, but you must honor your pledge to support Donald Trump now," she said, according to CNN. Some viewers felt that the comment was directed towards Texas Sen. Ted Cruz, who was scheduled to speak later in the evening. Cruz was later booed by the crowd as he urged voters to "vote your conscience," staunchly refusing to endorse the candidate.
Ingraham's speech is just the latest in a string of controversial appearances at the RNC, including Trump's wife, Melania, who on Monday gave a speech that echoed nearly word-for-word a speech that Michelle Obama gave in support of her own husband at 2008's Democratic National Convention. Trump Organization employee Meredith McIver took responsibility in a written statement on Wednesday, but conspiracy theories about the gaffe still abound. Donald Trump, Jr. was also accused of plagiarizing part of his speech. The strangest comment so far, though, was former candidate Dr. Ben Carson tying Trump's Democratic rival, former Secretary of State Hillary Clinton, to Lucifer. As in the devil. Donald Trump himself will speak on Thursday night, the last night of the convention, and based on his history, it promises to be quite a show.