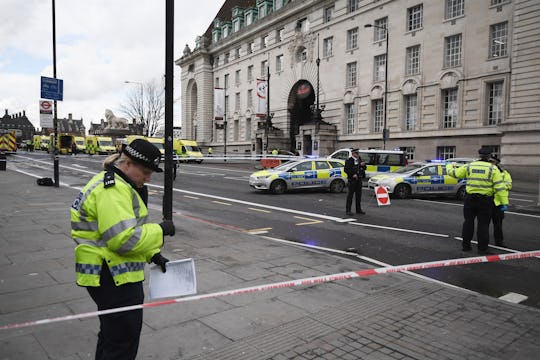 Carl Court/Getty Images News/Getty Images
Video Of The Moment Parliament Was Stopped
On Wednesday afternoon local time, London's Houses of Parliament were placed under lockdown after multiple attacks at Westminster, which London police have called a "terrorist incident until more is known." Parliament was in session as gunfire could be heard following the stabbing of a police officer just outside the Parliamentary compound entrance. Video of the moment Parliament was stopped due to the attack showed initial confusion and tenseness as members of Parliament awaited for more instruction on what to do.
Update: According to the Associated Press, British police late Wednesday evening raised the death toll in the Parliament attack to five. At least 40 people were injured.
Video footage from the BBC showed the Deputy Speaker calling MPs to order, then suspending the House, and instructing them to "please wait here." Staff have also been "evacuated floor by floor," according to a reporter on Twitter.
Other British officials, tourists, and other visitors to Parliament posted on Twitter shortly after that announcements were made throughout the building telling people to remain in place. Some inside the building were ushered by police to the central lobby of the Parliamentary Building following the attacks, according to a witness on Twitter. Meanwhile, The Telegraph reported that a group of schoolchildren visiting Parliament on Wednesday were singing songs to "lift people's spirits" as they sheltered in place during the lockdown.
Several MPs took to social media to let the public know they were safe. Many shared tweets from the locked House of Commons chamber, where a session was taking place when gunshots were heard.
North Brent MP Barry Gardiner tweeted a chilling photo of armed officers making their way through the building. A reporter from The Guardian who was locked down with other members of the press noted that armed police were searching Parliament room by room, which is "quite the undertaking" as reporter Andrew Sparrow noted, calling the building a "rabbit warren" made up of "endless cellars" and "cubby holes."
Additional photos and videos of the U.K. Parliament attack from witnesses show chaotic scenes both inside and outside the Parliamentary compound. Several graphic images and videos on social media showed injured victims lying prone on the ground, after the alleged attacker's car mounted the sidewalk and "mowed down" pedestrians along Westminster Bridge, according to one witness on Twitter.
Dr. Colleen Anderson, a junior doctor at St Thomas' Hospital where several of the injured were taken for treatment, said that some victims had suffered "catastrophic" injuries from the Parliament attack. "Some had injuries they could walk away from," Anderson said, but noted there are those who have suffered "life-changing injuries" from Wednesday's attack.
No further information is yet available regarding the identity of the attacker, who was killed at the scene by British police.