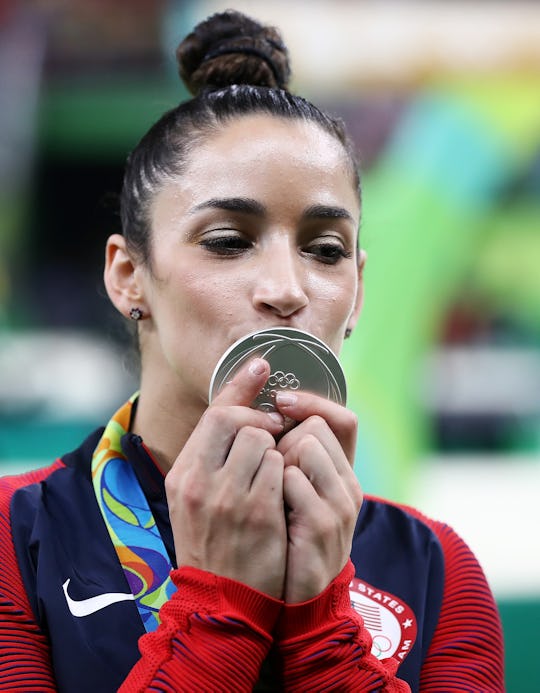 Elsa/Getty Images Sport/Getty Images
Video Of What Happened 4 Years Ago That Shows Why Aly Raisman's Silver Medal Is So Sweet
Let's face it: there's a whole lot of difficult, disturbing news going on these days. So when we get to take a break from all of our troubles to watch two talented women like Simone Biles and Aly Raisman totally own it at the individual all-around gymnastics competition at the 2016 Rio Olympics, it feels like a real gift. Especially when you consider this video of what happened to Aly Raisman four years ago... the girl has more than earned her silver medal.
Raisman is one part of Team USA's "Final Five" (Simone Biles, Gabby Douglas, Laurie Hernandez, and Madison Kocian), the seemingly unstoppable women's gymnastic team lead by super coach, team coordinator Martha Karolyi. The 22-year-old gymnast from Needham, Massachusetts competed with the "Fierce Five" back in 2012 at the London Olympic Games, and helped her team bring home the gold medal. While Raisman qualified for the bronze medal in the individual all-around competition, her score tied with Russian gymnast Aliya Mustafina with a mutual score of 59.566. Rather than sharing the bronze medal, there is a procedure to decide upon a tie-breaker:
Should there be ties in the team finals in London, the lowest apparatus score will be dropped and the remaining scores added. If that doesn't break the tie, additional apparatus scores will be dropped, one at a time, until there is a winner. If no winner emerges, the tie stands.
There is a similar formula for the all-around final. But if no winner has emerged following the dropping of apparatus scores, the execution score total for each gymnast serve as the tie-breaker, followed by his or her total start value. If that doesn't establish a winner, the tie will stand.
The tie-breaker left Raisman in fourth place, and without a medal in the individual all-round (although she did win the tie-breaker for a bronze medal in the balance beam final against Romania's Catalina Ponor after coach Karolyi asked for a video review and had the judges re-evaluate their scores).
This time around was a different story for Raisman. There was no tie-breaker in sight as Raisman took the silver medal with a score of 60.098 against her old competitor Aliya Mustafina, who scored 58.655. She was finally able to take one of the top two spots on the podium beside teammate and friend Simone Biles, uncontested. How sweet it must have felt.
After four years of training and focus, I hope Raisman is taking a moment to celebrate her victory. And I really hope there is junk food involved because the girl could probably eat a billion calories after that workout today.