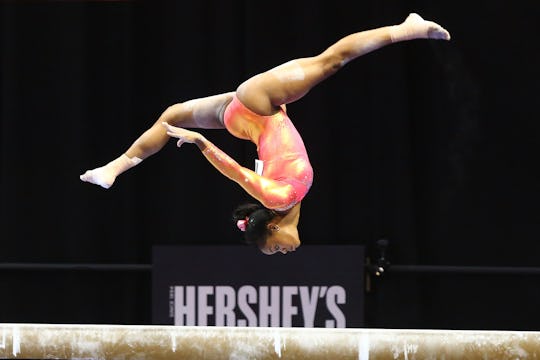 Dilip Vishwanat/Getty Images Sport/Getty Images
Videos Of Gabby Douglas On Beam Will Make You Rethink Your Workout Routine
This morning I went for a brisk walk. I took my dog, so it was really only brisk-ish, but still. I was feeling pretty proud of myself. Proud enough to go get a cinnamon scone and a latte from a local bakery afterwards as a well-deserved reward. However, that was before I sat down to watch videos of Gabby Douglas on the beam. And now I'm rethinking my entire morning routine (including the scone slathered in butter).
The road to the Summer Olympic Games in Rio de Janeiro has not been an easy one for Douglas, a young gymnast who nearly didn't make it to the games after all. During last weekend's U.S. Olympic Team Trials in San Jose, California, the top-ranked Douglas had a series of sub-par performances that nearly cost her a spot on the Olympic team. Despite the fact that the 20-year-old is the defending Olympic all-around Gold medalist, Douglas fell off the balance beam twice and finished seventh all-around. Douglas eventually finished in third place during the uneven bars competition and earned her spot as one of the five women to travel to Rio in August for the Olympic Women's Gymnastics Team (she will be joined by frontrunner Simone Biles, Laurie Hernandez, Madison Kocian and Aly Raisman).
Despite her difficult weekend, Douglas is cautiously optimistic about her chances at the Summer Olympics. In an interview with TeamUSA, Douglas said:
It's been a little bit challenging to me that every single turn counts, not letting it slip away and just saying, "It's just practice, I'll just do it in competition." I really have to just focus in and make every turn count.
Watching Douglas, one of the only women gymnasts (along with teammate Raisman) to attend back-to-back Olympics since 2000, struggle on the balance beam is difficult. Particularly once her mother spilled the beans on her struggles since the last Olympic Games.
According to Douglas' mother, Natalie Hawkins, Douglas fractured her right knee while performing a 21/2 turn on the vault back in October while winning an all-around silver medal. She did not have surgery, and nobody realized the severity of the injury. Unfortunately, Douglas ended up spending two months in crutches after the incident.
The knee has reportedly fully healed, and Douglas is now able to prepare for the Olympic Games in Rio. Hopefully she will get the chance to remind fans of her talent and determination this summer.
To be fair here, guys, even when Douglas falls off the beam, that girl is rocking it. Plus, she now has a "Shero" Barbie named after her. That's like, mic drop. Done.