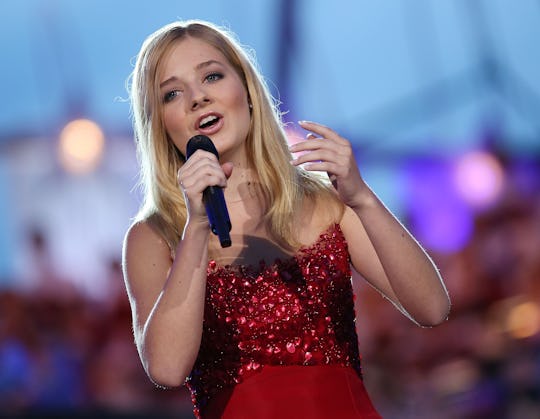 Paul Morigi/Getty Images Entertainment/Getty Images
Videos Of Jackie Evancho Singing You Need To See
It's become a national punchline that Donald Trump's team can't convince a single A-list entertainer to perform at the president-elect's fast-approaching inauguration ceremony, but that void has launched a little-known teenage opera prodigy to instant cultural prominence. When 16-year-old America's Got Talent alum Jackie Evancho agreed to sing the Star-Spangled Banner at the festivities Jan. 20, she also attracted the criticism of many convinced that her participation signaled a personal endorsement of Trump's and his administration's decidedly anti-Muslim, anti-women, anti-immigrant, anti-LGBT (the list goes on) positions. The backlash inevitably focused on the fraught politics of the decision, but videos of Jackie Evancho singing reveal a young woman dedicated to her craft and show that for her, at least, it's not necessarily political.
Since her breakthrough run on Americans Got Talent in 2010 — when, at just 10 years old, she belted such classics as the Italian O mio babbino caro — Jackie has released six albums and one EP, according to USA Today. She's also the youngest singer ever to headline New York City's Lincoln Center solo.
The singer's family has captured just as many headlines as Evancho's prolific career since she announced her biggest gig yet in December: Her older sister, Juliet, came out as trans in 2015 and is even embroiled in a lawsuit against her Pittsburgh-area school district for her right to use the girls' facilities. How could Jackie agree to sing for a man who chose Indiana Gov. Mike Pence, the signer of a recently passed and vicious law undercutting the rights of LGBT people in his state?
"I just kind of thought that this is for my country," she told The New York Times' Katie Rogers this week in response to the criticism. "So if people are going to hate on me, it's for the wrong reason."
The young crossover singer, clearly, wants to be judged on the quality of her performances and her dedication to her country. And she has demonstrated both to be of high quality in the past, such as when she delivered a beautiful rendition of God Bless America at PBS's A Capitol Fourth extravaganza this past Independence Day.
Shortly after that — and right around the time the news of her upcoming Inauguration Day performance went public — Jackie returned to her old America's Got Talent stomping grounds to participate in a holiday special that aired Dec. 19. This very well could have contributed to the spike in album sales (her Someday at Christmas is, in fact, a Christmas album, and would reasonably sell better at that time of year), but Trump himself was quick to take credit for the the uptick in a characteristically hyperbolic tweet. It's very possible she earned those extra sales more on the strength of the performance than the added exposure from her inauguration commitment, though.
Jackie certainly has the résumé to qualify her to belt out the national anthem before a audience with its attention also focused on the president. Back in 2010, not long after claiming second place on America's Got Talent, Jackie sang O Holy Night in front of President Obama and his family at the annual National Christmas Tree Lighting ceremony at the White House. She headed back to Washington for an encore of sorts in 2012, when she once again sang for the president at the National Prayer Breakfast. She's performed for Trump before, too, at a 2011 event at his Mar-a-Lago estate in Palm Beach, Florida.
Although she generally sticks to classical tunes, she's no stranger to singing the national anthem in her signature ethereal soprano either. Take, for example, her rendition of the ballad at an NFL game when she was 13.
Still, the platinum recording artist is, at the end of the day, more or less a normal 16-year-old who jams out in the car with her three siblings. And, yes, Juliet included: Although the oldest of the Evancho children won't accompany her sister to the inauguration Jan. 20, the two are nevertheless as close as sisters can be. In 2015, Juliet referred to Jackie as her "best friend" on Twitter. The bond seemed like it was still going strong in an Instagram video of the two putting their own spin on M.I.A.'s Bad Girls over the summer.
Even if much of the country may write her off for it, Jackie Evancho's inauguration performance will expand her already impressive repertoire of professional accomplishments before she's even old enough to vote herself.