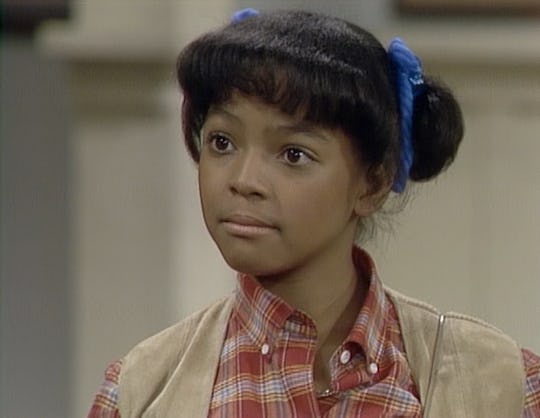 NBC
Videos Of Kim Fields As Tootie On 'The Facts Of Life' Show She Has Always Been Talented
As a later millennial, I was born after The Facts of Life left the air. However, I was lucky enough to have parents who occasionally let me stay up and watch Nick at Nite, where I got my fill of classic sitcoms and developed an appreciation for over-brushed '70s hair. The Brady Bunch, I Love Lucy, and Three's Company were favorites of mine. Nick at Nite is also where I got my first experience of that classic Tootie sass on The Facts of Life, courtesy of Kim Fields. And, those reruns are just a reminder that Kim Fields has always slayed.
Today, Kim Fields has resurfaced in the public eye due to her one-season stint on The Real Housewives of Atlanta and on Dancing With the Stars, where she electrified the judges, no roller skates required. Kenya Moore may not agree (#twirl) but the rest of us can see that Fields has always been a brilliant on-screen talent. While the rest of the Real Housewives ladies are willing to get their hands dirty, and can be downright vicious in shading one another, Fields always tried to stay a little bit above the fray, despite Kenya's near constant efforts to drag her into it.
Looking back at some old clips of The Facts of Life, it's pretty fun to see the ways in which exasperated Fields is a lot like exasperated Tootie back in the day. The penchant for heavy sighs and eye-rolling, for example, has clearly been with the actress for a while.
Anyone looking for evidence of Kim Fields' acting chops need look no further than the above clip of Tootie absolutely losing it when Mrs. Garrett won't let her go to the Jermaine Jackson concert. The teenage frustration and angst is practically palpable.
Even more evidence that Kim Fields is an acting genius, observe how she remains completely chill in the face of a young, pre-ER-era, and unbelievably handsome George Clooney. Even Mrs. Garrett looks a little undone.
The Facts of Life started as a spin-off of the series Different Strokes, and followed the misadventures of a group of girls who attended a boarding school run by Mrs. Garrett, who was the housekeeper for Philip Drummond on Different Strokes. The series was one of the longest running sitcoms of the '80s.