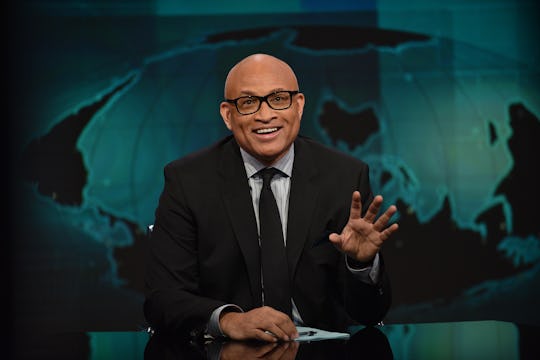 Bryan Bedder/Getty Images Entertainment/Getty Images
Videos Of Larry Wilmore That Show He'll Be A Great White House Correspondents' Dinner Host
Larry Wilmore, comedian and host of Comedy Central's The Nightly Show With Larry Wilmore, has built his reputation on "keeping it 100," meaning devoting himself to the truth, which should make things interesting for him on Saturday night. Wilmore has been tapped as the host of this years White House Correspondents' Association Dinner, and it promises to be a momentous occasion. Wondering if the comedian is up to the task? Check out these videos of Larry Wilmore that prove he's got what it takes to be a great White House Correspondents' Dinner host.
The WHCD is a fairly unique event in that it brings together political power hitters, journalists, athletes, and Hollywood stars for a dinner that is part celebration of free press and part political roast. While the dresses, the celebrities, and the gossip might all have a part to play at the WHCD, arguably the most talked about element of the dinner is the comedy routine. The president warms up the crowd with a few jokes (And what president has been better equipped than Obama? It's possible he missed his calling as a full-fledged comedian), then the host takes over for the Great Roast of the evening. And this year's roast promises to be noteworthy. After eight years as president, this will be Obama's WHCD swan song. Think about that for a moment. Imagine if you were leaving your job, but before you left you were given the opportunity to get up on stage and make fun of all the people you've worked with? So... yeah, that should be interesting.
Wilmore is sure to make it even more so. A well-known Obama supporter (although he often jokes that he "only supports him because he's black"), Wilmore became a hit after becoming "senior black correspondent" on The Daily Show With Jon Stewart. His self-effacing wit and unabashed honesty have shed light on everything from racism to political narcissism. And he has promised not to pull any punches on Saturday night. Here are just a few videos of Wilmore's greatest moments to whet your appetite for the WHCD on Saturday night.
On The Presidential Campaign
Let me sum up Wilmore's statements on SiriusXM Radio with Julie Mason in case you're in a hurry. Wilmore's thoughts on Trump are pretty straightforward: "He really has nothing to say, and he says it horribly." Which is all people need to know about him, right? Also, Wilmore referred to Texas Sen. Ted Cruz as "Grandpa Munster" Ted Cruz. Fabulous.
On Hosting The White House Correspondents' Dinner
He calls himself the court jester being summoned by the King and makes a joke about how "they" have taken all of his identification. He understands the weight and the history of the occasion. But I think he plans on slaying regardless.
On Racism In Politics
Wilmore criticized the media back in March for going after Democratic candidates and their "racial blind spots" while giving GOP candidates what he felt was a pass. Will Wilmore bring race to the table on Saturday night as the first black president in the history of the United States gets ready to step down and #BlackLivesMatter continues to dominate the news? I would bet Beyoncé's Black Panther bodysuit on it.
Wilmore promises to make Saturday night's WHCAD a night to remember. If only Donald Trump was going to be there... (he recently said he wouldn't be attending).