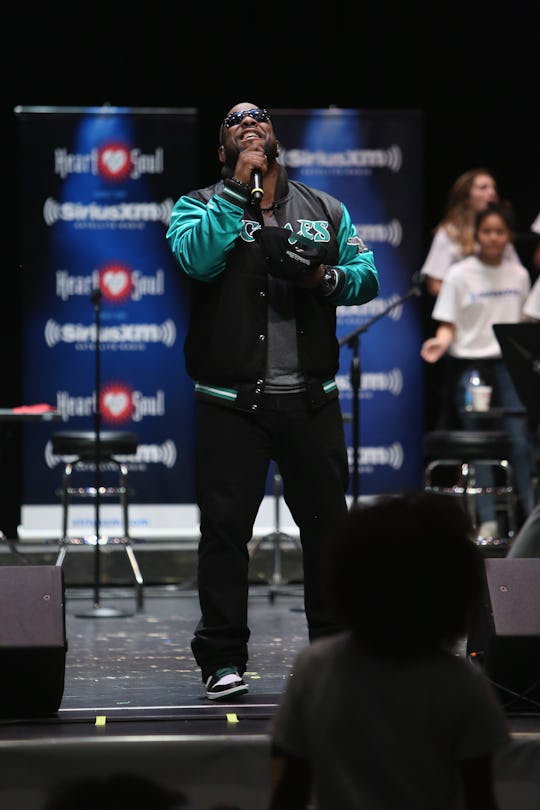 Bill McCay/Getty Images Entertainment/Getty Images
Videos Of Wayna Morris Dancing That Prove He's Got His Work Cut Out For Him On 'Dancing With The Stars'
Season 22 of Dancing With The Stars premieres Monday night, bringing twinkle-toed celebrities back into audiences' homes once again. Of the 10 stars-turned-dancers set to appear on the show, Boyz II Men's Wanya Morris will be the only singer in this season's lineup of celebrity dancers. Morris is best known for his amazing tenor voice — but what about his dance moves? Hmmm... how do I put this kindly? Videos of Wanya Morris dancing prove that the "end of the road" just might come up a whole lot sooner than Morris hopes on DWTS this season.
ABC News recently spoke with Morris about his decision to join DWTS this season, and he said he is in it to win it: "Look man, let me tell you something, I didn't say yes to lose." Morris also spoke about losing weight for his upcoming DWTS stint. Prior to DWTS, Morris could most recently be seen performing with Boyz II Men in a special guest appearance singing "Beauty School Dropout" in Fox's production of Grease: Live! this past January. While the doo-wop number featured a few dancing moves, the choreography wasn't nearly as involved or challenging as what Morris will face on DWTS this season.
With a 31-year history with Boyz II Men, you would think the 42-year-old singer from West Philadelphia, Pennsylvania, might have a few special dance moves after all these years: Boyz II Men were the kings of new jack swing in the early '90s. However, it would seem my fangirl memories might have been a bit foggy as I started to dig through old Boyz II Men music videos to check out Morris' moves — and what I found wasn't pretty.
At first, the videos of Morris dancing in Boyz II Men started off strong, with some serious 1990s dance moves, like the opening of their 1991 debut hit single, "Motownphilly":
But Morris' dance moves quickly went downhill from there. Just two years later, Boyz II Men released their second album, II. You may remember such popular middle school make-out tunes such as "I'll Make Love To You" and "Water Runs Dry." And how did Morris look dancing to these R&B hits? Um...
Morris has some very expressive arms in "I'll Make Love To You:"
And I think most of "Water Runs Dry" could be considered interpretive dance — again with the hands thing:
Meanwhile, Morris "danced" (?) in space (?) for Boyz II Men's 1997 track "Four Seasons of Loneliness." But, you know what? I really have no idea what's happening here. Not a clue.
Okay, perhaps I'm being a bit too harsh. A fan video taken at a 2011 Boyz II Men concert at a Cabazon, Califorina, casino shows that Morris isn't afraid to get a little cheeky on the dance floor:
And, at the Philadelphia stop on the Package Tour with NKOTB and Boyz II Men in 2013, Morris definitely got his jam on with fellow '90s icon, Joey McIntyre:
Morris' dance moves aren't terrible. He kind of reminds me more of that lovable uncle who can always be found cutting a rug at family functions: cute but awkward, and always well-meaning. That said, with a musical and performing career as illustrious as Morris', I feel like I really have no room to judge his dancing ability. Thankfully, that's all up to Len Goodman, Carrie Ann Inaba, and Bruno Tonioli — the judges of DWTS.
Season 22 of Dancing with the Stars premieres Monday night at 8 p.m. on ABC.