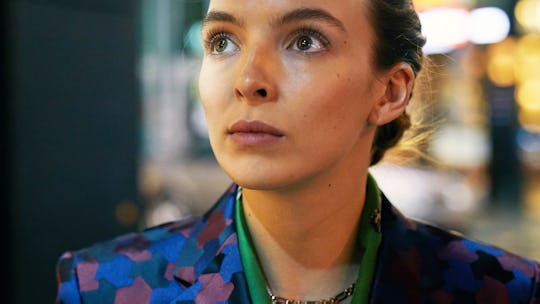 BBC America/Sid Gentle Films
Feast Your Eyes On Villanelle's Best Outfits On 'Killing Eve', Ranked
The fashion on Killing Eve is to die for — figuratively and literally. As Season 2 of the BBC America series continues to unfold in the upcoming weeks, fans have a chance to feast their eyes on hundreds of spectacular costumes curated by Phoebe de Gaye, who has already made the series one of the most fashion-forward shows on television. Although Sandra Oh stars as the series lead Eve Polastri, the ruthless Villanelle, played by Jodie Comer, consistently pulls out glamorous new pieces that could make Anna Wintour weep. So today, I've ranked Villanelle's best outfits on Killing Eve, because I know it's hard not to marvel at this assassin's closet from week to week.
On Killing Eve, Villanelle's wardrobe is just as flashy as her kills — and that's exactly how she likes it. Of course, this is an entirely conscious decision from a storytelling perspective as well. In an interview with Entertainment Weekly, Luke Jennings, the author of books that inspired the BBC series, revealed that Villanelle's "clothes reflect her status and independence. She doesn't have to conform or please anyone's gaze."
Now, as Killing Eve Season 2 continues to flourish and Villanelle's dance with Eve becomes messier than ever, fans will have tons more to look forward to. Speaking to EW, costume designer Charlotte Mitchell promised that the cutthroat assassin would receive over 35 incredible looks.
"She plays by her own rules — and never wears the same thing twice," Mitchell said.
Now, let's dive into some of Villanelle's best outfits, shall we?