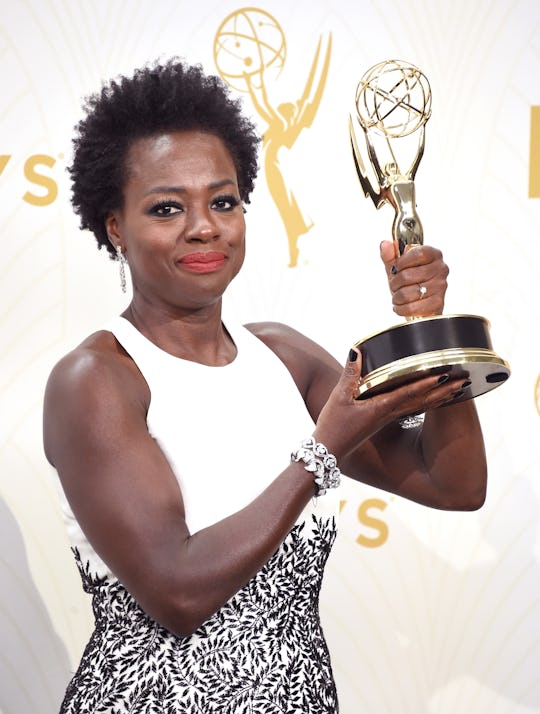 Viola Davis' Daughter Dressed As Her For Halloween, And It's Everything
Kids can choose to be a whole range of out-there things for Halloween, but this year one celebrity's child made possibly the most inspiring choice ever. How to Get Away With Murder star Viola Davis' daughter dressed as her mother for Halloween. On Saturday Davis shared a photo on Facebook of her daughter, Genesis, resplendent in a white dress, red lipstick, clutching a gold figuring, echoing Davis' look when she accepted a 2015 Emmy award for her role as badass criminal law professor Annelise Keating. 
Davis wrote: 
So.....the Elsa costume? Didn't work for her. The Pirate? A no go. So she finally said," I just want to be YOU mommy"! So... uhh.....this is ME.
It's hard to imagine a better tribute from your kid, but Genesis' Viola Halloween costume also makes a larger point about the impact her mother has had on the culture at large. In Davis' Emmy acceptance speech, she talked about how underrepresented black women are in entertainment, among awards recipients but also in leading roles period. 
"The only thing that separates women of color from anyone else is opportunity. You cannot win an Emmy for roles that are simply not there," Davis said. In her high-visibility role as Keating, but also in her career as a whole, Davis gone a long way toward making black women more visible and propagating the truth that women like her are at least as powerful and competent and complex as anyone else. There's probably no better evidence of that than the fact that her daughter, who just turned 4 and is thus inundated with other characters she could choose to be (many of them white), thought the most desirable person to embody on the biggest dress up day of the year was her mom. 
Doesn't get much better than that. 
Image: Jason Merritt/Getty; Viola Davis/Facebook