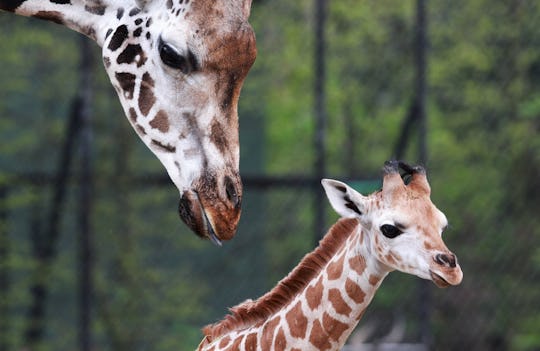 Joern Pollex/Getty Images News/Getty Images
April The Giraffe Is Pregnant Again So Get Ready To Live Stream 24/7
Here we go again, guys. Do you remember when the whole world seemed to stop and wait in 2017 for a giraffe to give birth? Watching the live stream of the pregnant giraffe at the Animal Adventure Park in New York became something of a national obsession, which was sort of weird and unifying at the same time. And now, it looks like viral sensation April the giraffe is pregnant again. Even better news? Yes, it's going to be live streamed all over again, so we can all jump back on that train!
The 17-year-old giraffe first made headlines when she was pregnant with her fourth calf last summer. Jordan Patch, the owner of the Animal Adventure Park in Harpursville, New York, made the clearly brilliant decision to live stream the birth of April's calf on the park's YouTube channel. When it was time for April to give birth (her first birth at the Animal Adventure Park as her first three calves were born before she was moved to the zoo), more than 1.2 million people tuned in to watch a giraffe being born last April. The zoo initially started to live stream from April's pen in February, because let's face it; staying riveted to a giraffe's live stream for the entirety of its 15 month pregnancy is a little too much to ask.
When April delivered her baby boy, Tajiri, he weighed 129 pounds and already stood 5 feet 9 inches tall. The calf's father, 5-year-old giraffe Oliver, watched from his own pen. This was his first birth, and I'm going to guess he didn't take any coaching classes to help April out as she delivered her giant baby. As park owner Jordan Patch told King News at the time, watching the birth was actually not something for the feint of heart:
Giraffes give birth standing up, which means when the calf is ready to be born, it exits its mother hooves first from six feet off the floor, making for a very exciting event.
And now, it looks like April and Oliver are expecting again. Patch made the official announcement on the TODAY show on Wednesday morning, July 25, telling host Savannah Guthrie, "The results are in and we're having a baby!" Anyone who watches the Animal Adventure Park's Facebook page would have seen Patch and a fellow member of the giraffe team were preparing to test some of April's fecal samples for a possible pregnancy about a month ago. And considering the Facebook video had one million views, April's pregnancy might not be a huge surprise to everyone.
So, we know that April is pregnant. We know that Oliver is the father, mostly because there aren't really a lot of other options for April. But we won't know if she's having a boy or girl until she gives birth... and that won't be for some time. Most giraffes can expect a gestation period of around 15 months, but Patch told TODAY that "April likes to go 16, 17, 18 ... 19 months."
I feel like the pregnant giraffe might disagree that she "likes" to go way over her due date, but I'll leave that alone.
The good news is, we have some oddly fascinating live stream video footage of a pregnant giraffe to look forward to, some time in 2019. And April fans are pumped.
I'm sure there will be people out there who scoff at our genuine fascination with a giraffe giving birth, but honestly is this not just the purest thing you could possibly like? A beautiful animal bringing another beautiful animal into the world? Let's all just be happy and wait for April's next giant giraffe baby to arrive, okay?