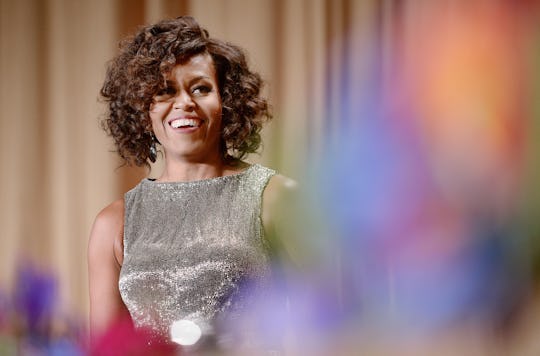 Pool/Getty Images News/Getty Images
Virginia Mayor Liked A Facebook Post Calling Michelle Obama An "Ape In Heels"
Institutional racism is alive and well in a small town in West Virginia where a racist Facebook post was endorsed by the town's mayor over the weekend. A community leader made the post to Facebook in anticipation of the next first lady, Melania Trump, whom she praised. She referred to the current first lady as "an ape in high heels" and Virginia's mayor apparently appreciated the racist Facebook post about Michelle Obama, commenting: "this just made my day."
West Virginia, a state that used to be largely Democrat, went full in for Donald Trump in the 2016 election. The same can be said of many of America's small towns, and the sentiments expressed in one West Virginian's racist Facebook post have been cropping up consistently in the week since the election. Emboldened by Trump's win, people like Clay County's Pamela Ramsey Taylor can make such statements to a receiving online audience. Taylor's post may have gone unchallenged — and certainly not covered by the media — if not for the mayor of Clay County, Beverly Whaling, commenting on the post saying, "This just made my day Pam," thereby effectively endorsing Taylor's blatantly racist comment. Whaling's and Taylor's Facebook pages have since been deleted, and requests for comment to local government officials and the Sheriff's Department were not immediately returned.
Calls for both Taylor and Whaling's resignations came almost immediately, reported local news WSAZ3. Residents of Clay County and beyond took to the Facebook page of Taylor's non-profit, the Clay County Development Corp. (which is funded with state and federal funding) to call her out for the post. Both Taylor and Whaling's personal Facebook pages have been deleted, according to local paper the Charleston Gazette-Mail, who also reported that Taylor has been removed from her position at the Clay County Development Corp.
Whaling's resignation as Mayor, however, has yet to come — although it has been called for. Several members of the Democratic Party in West Virginia have denounced Whaling's comment and offered their apologies to the Obamas, according to the Charleston Gazette-Mail.
A petition that started shortly after the post came to light, calling for Taylor and Whaling's resignations, has garnered more than 92,000 signatures since it began over the weekend. Whaling defended herself to the Washington Post, saying:
My comment was not intended to be racist at all. I was referring to my day being made for change in the White House! I am truly sorry for any hard feeling this may have caused! Those who know me know that I'm not of any way racist! Again, I would like to apologize for this getting out of hand!
The familiar tone of the non-apology outraged many who have been following the story on social media, regardless of whether they're from West Virginia or not.
Taylor's response to the backlash included threats to sue those who she felt had slandered her, and she told the Washington Post that she felt the response to her post had morphed into "hate crime against me." Taylor had reported receiving threats after her post was publicized, according to local news WSAZ3.
The contact information for the Clay County Development Corp. via their Facebook page has been changed to a link to the petition calling for Whaling's resignation. Local news station WCHSTV in Charleston reported that the incident will be addressed at a council meeting scheduled for Tuesday night.
But please, keep saying we live in a post-racial society.