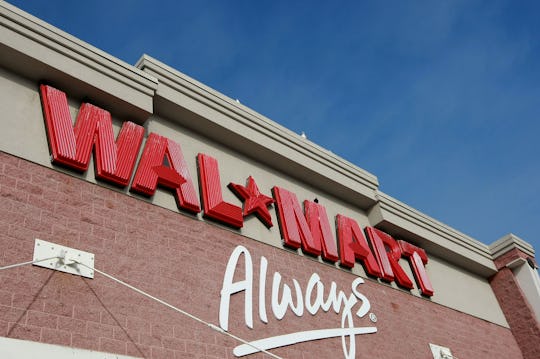 Justin Sullivan/Getty Images News/Getty Images
You Do *Not* Want To Miss Walmart's Black Friday Prices On Tech, Toys, & More
Black Friday is almost here, and stores are already teasing customers with previews of their sale prices. Walmart's Black Friday sale ad is out now, and the prices are all that you hoped for and more. Everything from clothes to cookware to electronics is on sale, and of course, there are plenty of great deals on toys.
The deal hunting starts in stores at 6 p.m. on Thanksgiving night, but you can also go online the day before. The sale is kicking off on Walmart.com at 10 p.m. Eastern Time on Wednesday — that's the earliest the store has ever launched the sale. Walmart is billing it as their Best Black Friday ever, and they're really going all out to prove it. Starting at 4 p.m. on Thanksgiving, stores will be giving out free Keurig coffee and cookies from the Walmart bakery, according to a press release — so if you skipped out on pumpkin pie to get to Walmart early, at least you'll still get a treat. If only all the stores followed Walmart's example this year!
Navigating the store and finding everything on your shopping list is getting easier, too. The store map on the Walmart app will turn into a Black Friday version once 4 p.m. hits on Thanksgiving, leading you to the color coded areas where the best deals will be on display. (Which is a huge help when you're at a store with a million different kinds of things.)
Here are eight of the top deals from Walmart's Black Friday sale to try and snag before they're gone.