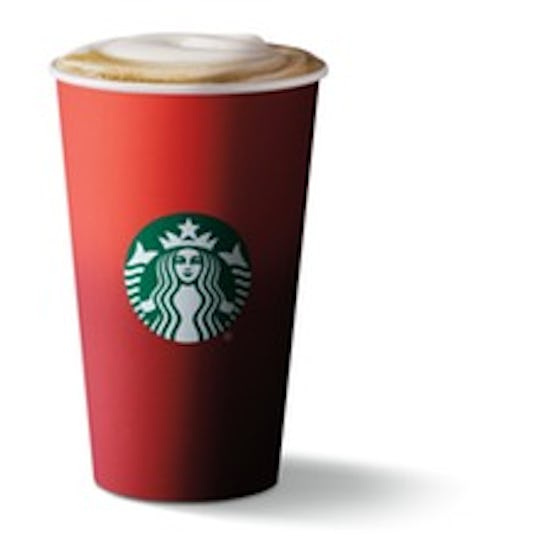 "War On Christmas" Panic Predates Starbucks' Red Cups, So Let's Look Back At Past Freak Outs
If you have been online at all this week, you're probably aware of the claims from some Christians that Starbucks is waging a "war on Christmas" with the minimalist design of its red holiday cups. The uproar may seem totally out of the blue, especially if you, like many people, aren't quite getting following those critics' logic. (The cups are, after all, red and green, a color combo universally known to represent the holiday celebrating the birth of Christ.) But the cup-induced indignation is actually only the latest in a long tradition of claims that Christmas and, by extension, Christianity is under full-on attack. Let's meet some ghosts of War on Christmas past.
The 1920s
Guess who said this: "Last Christmas most people had a hard time finding Christmas cards that indicated in any way that Christmas commemorated Someone's Birth. People sometimes ask why 3,000,000 Jews can control the affairs of 100,000,000 Americans. In the same way that ten Jewish students can abolish the mention of Christmas and Easter out of schools containing 3,000 Christian pupils." Those are the words of none other than Henry Ford, from his 1920s newsletter The International Jew: The World's Foremost Problem. And you thought he only made cars.
1959
A 1959 pamphlet put out by the anti-Communist John Birch Society titled "There Goes Christmas?!" blamed the United Nations for erasing Christmas: "The UN fanatics launched their assault on Christmas in 1958, but too late to get very far before the holy day was at hand. They are already busy, however, at this very moment, on efforts to poison the 1959 Christmas season with their high-pressure propaganda. What they now want to put over on the American people is simply this: Department stores throughout the country are to utilize UN symbols and emblems as Christmas decorations."
1999
Fast-forward to 1999, when writer Peter Brimelow founded a website called VDare (notably classified as a hate group by the Southern Poverty Law Center), and called out the Department of Housing and Urban Development for hosting a "A Celebration of Holiday Traditions." The next year he bemoaned the fact that Amazon was using the phrase "Happy Holidays." I won't list every fight he's fought, but I'll leave you with this: in 2009, he sincerely wondered if Christmas would eventually classified as a hate crime. Not celebrating Christmas, or decorating for Christmas, or wishing someone a merry Christmas, just… Christmas. A hate crime. Sure.
2004/2005
So who popularized the modern idea of the War on Christmas? Bill O'Reilly, of course. It started on The O'Reilly Factor in 2004, with the recurring segment "Christmas Under Siege." He first complained about New York Mayor Michael Bloomberg's referring to the tree at Rockefeller Center as a "holiday tree," then Sears for mentioning a "holiday wish list" on its website, then a (private) parade in Denver that declined to include a religious float in its annual parade. By the next year, O'Reilly had a theory as to why liberals were trying to cancel Christmas: "if you can get religion out, then you can pass secular progressive programs, like legalization of narcotics, euthanasia, abortion at will, gay marriage, because the objection to those things is religious-based, usually." This was in 2005. Recreational marijuana is now legal in four states and the District of Columbia, four states have a Death With Dignity law, and gay marriage is legal throughout the nation. However, abortions are getting harder to procure, so there's that.
2012
More recently, Fox and Friends' Gretchen Carlson has taken up the fight for Christmas, complaining that Boca Raton, Florida banned Christmas trees and menorahs inside public buildings in 2012. She worried that the ban might eventually spread to a "personal home situation," wherein private citizens wouldn't be allowed to own Christmas trees. She also interviewed Rhode Island State Representative Doreen Costa on Governor Lincoln Chafee's decision to skip hosting an official Christmas tree lighting ceremony. "A lot of people, for whatever reason, will look at this interview today and say, Gretchen Carlson and Doreen Costa are nuts. They're so nuts because they think there's this made up war on Christmas," Carlson said. "We're not nuts, are we? There is a war on Christmas!"
2013
Then there are the state governments. In 2013, Texas Governor Rick Perry signed the "Merry Christmas bill" (HB 308) into law. It states that "a school district may educate students about the history of traditional winter celebrations, and allow students and district staff to offer traditional greetings regarding the celebrations, including 'Merry Christmas,' 'Happy Hanukkah,' and 'happy holidays." Meanwhile, the city of Belen, New Mexico is currently embroiled in a legal fight to keep a year-round nativity scene on city property. Mayor Jerah Cordova argues that it's been there for years, and also Belen is Spanish for Bethlehem, which is a great reason to have a religious display on public property.
2015
Most recently, of course, we have Josh Feuerstein, who says Starbucks has declared War on Christmas by not having their red cups specifically pay tribute to his lord and savior, Jesus Christ. In the ensuing Internet commentary on the red cup accusations, it's not clear that a lot of people are taking Feuerstein up on his challenge to "all Americans" to go into Starbucks, tell them your name is "Merry Christmas," and take a selfie with the cup, but you do you, Josh. You do you.
And there you have it. If there is a War on Christmas, these are the brave souls who are fighting back. If your religious liberties are being trampled this season, count on Fox News and at least one angry dude on the Internet to have your back.
Images: Starbucks, Giphy (5)