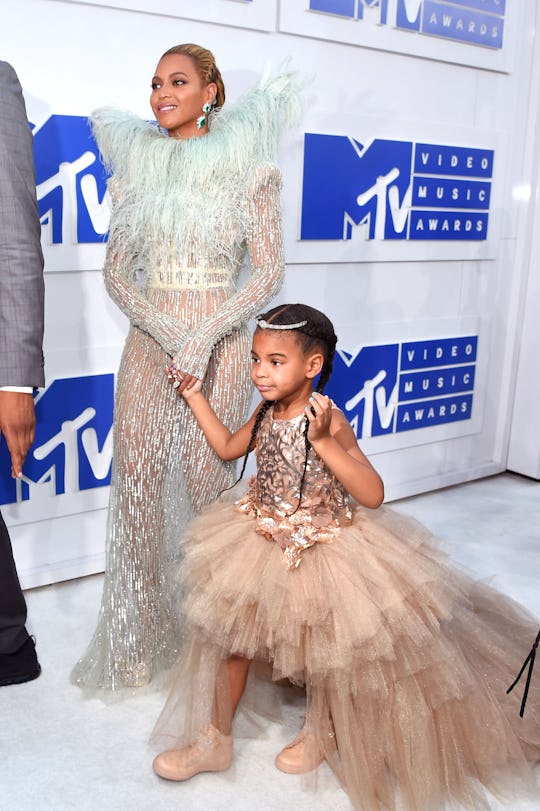 Larry Busacca/Getty Images Entertainment/Getty Images
Was Blue Ivy In Beyonce's Grammys Performance?
Beyoncé's 2017 Grammy Awards performance was a beautiful, celebratory spectacle with an emphasis on motherhood, which makes sense considering she just announced that she's pregnant with twins. Beyoncé was visibly pregnant during the performance, and the narration emphasized motherhood, particularly relationships between mothers and daughters. During the introduction to her song, a little girl was even shown running around Beyoncé, but was it just any little girl or was Blue Ivy in Beyoncé's 2017 Grammys Performance?
The girl running around Beyoncé in a blue dress definitely looked a lot like Blue, but she didn't seem to actually be on stage with her mom. When the performance came to a close and the camera cut to the audience, Blue was sitting with her dad Jay-Z and proudly cheering. She couldn't be in two places at once, so the image on stage was part of the visual effects that enhanced Beyoncé's performance, but it still seemed to be Blue. The effects also multiplied her so it looked like three identical Blues circling Beyoncé as she performed. Still, hologram or not, it made perfect sense for Blue to take part in a song that was all about mothers and daughters – even if it was a hologram version of her and not technically the real thing.
It was very fitting for Blue (or a hologram version of her, at least) to appear on stage because she's been a part of Beyoncé's performances since she was in the womb – literally. Beyoncé very memorably announced that she was pregnant with Blue during a performance of "Love On Top" at the Grammys, so Hologram Blue showing up during her 2017 Grammys performance was everything coming full circle.
Blue also has a long history of stealing the show during award ceremonies with her adorable reactions in the crowd – whether she's gazing proudly at her mom, dancing with her dad, or just making an incredibly appropriate facial expression, Blue has always been a Grammy Awards star. She also appeared in the video for "Formation" (once again stealing the show), which made it even more appropriate to see her on stage with her mom in hologram form.
Blue has been a part of her mom's musical career from the very beginning, especially as Beyoncé's music has become more and more personal throughout the years. The Knowles-Carter family is clearly a tight-knit one, and seeing them express that closeness is always something special.