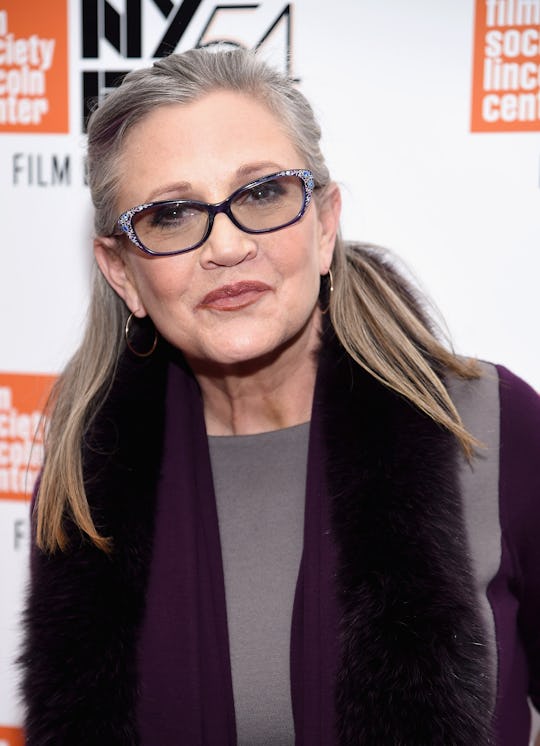 Dimitrios Kambouris/Getty Images Entertainment/Getty Images
Here's What Led To Carrie Fisher's Death
The world has lost an icon today. Carrie Fisher, the iconic actress famous for portraying Princess Leia in the Star Wars franchise has died on Dec. 27 at the age of 60, according to People. But was Carrie Fisher sick or was her death a complete shock?
Christmas celebrations this year were shadowed by the news that Fisher had suffered a massive heart attack on a plane Dec. 23. Variety reported that the plane was headed from London to Los Angeles when Fisher went into full cardiac arrest. She had been moved from the emergency room to ICU and family, friends, and fans had hoped she would make a full recovery.
On Dec. 25, Fisher's mother, actress and singer Debbie Reynolds, had tweeted that her daughter was in stable condition and thanked everyone for the prayers, according to E! News. There hadn't been much of an update since then until today, when the family spokesman, Simon Hall, released a statement on behalf of Fisher's daughter, Billie Lourd, that told the world of Fisher's passing. According to People, the statement read:
"It is with a very deep sadness that Billie Lourd confirms that her beloved mother Carrie Fisher passed away at 8:55 this morning. She was loved by the world and she will be missed profoundly. Our entire family thanks you for your thoughts and prayers."
Fisher had been in the news recently, but not for being sick. With the Star Wars franchise rebooted last year as she reprised her role as Princess Leia, the actress had been on a lot of people's minds. Just this past November, she made headlines again when she spoke of the affair she had with Harrison Ford while filming Star Wars, reported CNN. Fisher detailed the affair in her new book, The Princess Diarist, a recollection of what happened behind the scenes of filming arguably the most iconic film series of all time that was released just in November of this year.
Which makes Fisher's death even more shocking. Just a month ago, she seemed fine. Her massive heart attack wasn't preceded by any sickness. According to Rolling Stone, the actress did suffer from bipolar disorder as well as addiction problems throughout her life, but there had been no mention of her health that made anyone think she was going to pass anytime soon. Fans expected to see her in the next addition of the Star Wars franchise, Star Wars: Episode VIII, which just wrapped filming in July of this year, according to IMDB, and is expected to be released in 2017.
Nobody wishes anyone ill, but without any sickness or health issues before her death, Fisher's passing is even more upsetting and tragic. It seemed totally unexpected and as the world prepares to close out 2016, it's even more unfair that another icon has died this year. I'm not ready to say goodbye to Fisher, but I am ready to say goodbye to a year that has stolen my childhood.
Rest in peace, Princess Leia. May the force be with you.