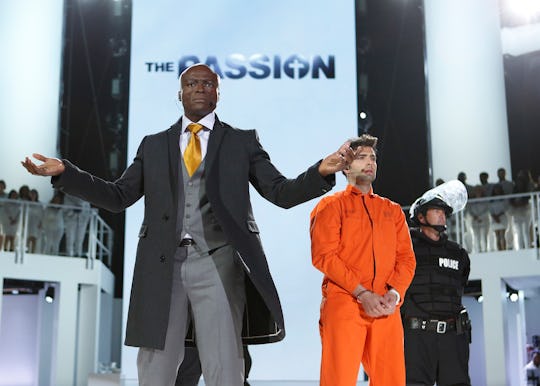 Steve Deitl/FOX
Was Jencarlos Canela Really Crying In 'The Passion'? Jesus' Tears During His Trial Were Actually There
Let's all admit that there were certainly some high and low moments during The Passion live on Sunday. The acting performances were pretty legit, but was Jencarlos Canela really crying in The Passion? It certainly looked like it.
Canela was totally dedicated to keeping things very, very real during one of the most tense parts of the whole story: As Pontius Pilate, played by Seal, interrogated Jesus, Canela stood there in his orange jumpsuit, not quite crying, but almost spilling a couple tears. It was intense. His voice even cracked a little when he recited lines about being called a king. We all already knew he could do comedy from his role on NBC's Telenovela, but Canela held his own, and it looked like the tears were real. Everyone on Twitter seemed to take notice, too. For some, it seemed to even make their experience.
"Watching Jesus standing before Pontius Pilate and the people with tears streaming down his face.....Heartbreaking!" tweeted one user. That was pretty much the sentiment all around — although, this being Twitter, snark about just how genuine Canela's behavior really was also seemed to be making the rounds. Some simply weren't buying it. But can you blame them? Not everyone is so pious, and it's wholly unfair to assume Twitter would take the live musical super seriously, given that the platform caters to millions of users who identify with incredibly different religious backgrounds (or not at all).
Here were some of the best tweets on Canela's seemingly real tears:
Canela's passion wasn't entirely surprising, given that, prior to the live-broadcast, he had previously spoken about taking on the role of Jesus and shared his ideas on religion. Canela told Billboard that he thought America needed a dose of a "story like this" right now. He also didn't think everyone needed to be a believer to enjoy this story. In that same interview, he explained:
Whether you're a believer or not, this story is way more than that. It's about love, unity, acceptance, forgiveness, facing your fears, and being able to do anything to conquer them so you can be the best person you can. I needed to hear that message. I'm no one to preach, but when I saw the trailer, I understood and identified more than ever with this amazing story that is part of the fabric of our lives.
Canela's performance on Sunday certainly proved that the passion behind much of what he was reciting on stage (and all over New Orleans) was legit. Those tears were real. He was totally tapping into being Jesus. That's not an easy thing to do. Being cast as Jesus must have been the most intimidating roles to ever consider, but kudos to Canela for working it.