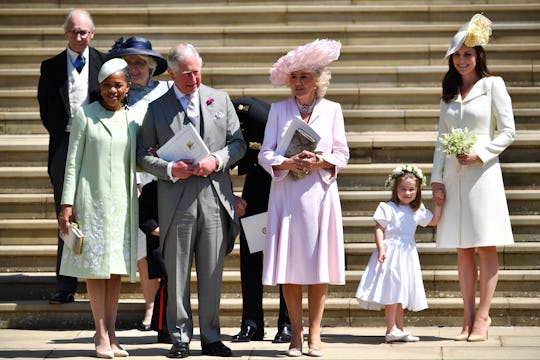 WPA Pool/Getty Images Entertainment/Getty Images
Turns Out, Everyone Was Wrong About Kate Middleton's Dress At The Royal Wedding
It's no secret that Meghan Markle, Duchess of Sussex was the star of her May 19 wedding to Prince Harry, Duke of Sussex. In fact, millions of people tuned in to watch Meghan walk down the aisle at St George's Chapel, Windsor Castle, a moment that was incredibly moving. But while the world focused its attention on Meghan, her sister-in-law, Catherine, Duchess of Cambridge, flew under the radar. And since fans weren't paying close attention, they got this one detail about Kate Middleton's dress at the royal wedding wrong. As it turns out, there's a good chance Kate didn't wear a recycled outfit to the nuptials — a fact that some people might be surprised about. Plenty of fans assumed she donned one of her favorite Alexander McQueen dresses to the event, after all. Still, some supporters remain convinced that the dress is recycled. So, what's *really* going on here?
Shortly before Meghan and Harry traded vows, a lot of people wondered what Kate would wear to the big day. Although fans are typically interested in Kate's fashion choices, the curiosity on May 19 was especially intense given that she just delivered a baby boy in April. Some suspected that Kate would opt for something more casual and comfortable given the circumstances, while others theorized that she'd make a bold fashion statement at the event.
Interestingly enough, however, many fans lost interest in Kate once Meghan stepped onto the grounds of St George's Chapel, Windsor Castle in a breathtaking and custom-made Givenchy dress. People were so captivated, in fact, that readily assumed that Kate wore her wedding outfit multiple times before, according to Hello! magazine. The look alike dress first appeared at Princess Charlotte of Cambridge's christening in July 2015, while its second debut was at public event in June 2016. And most recently, Kate wore the so-called repeat during a visit to Belgium in July 2017. Considering the gorgeous piece was designed by one of Kate's favorite designers — Alexander McQueen — it's really no surprise she recycles it so often.
Not to mention, Kate is a big proponent of affordable fashion. At the Houghton Horse Trials event on May 28, for instance, Kate wore a dress from Zara that retails for under $70, according to Harper's Bazaar. And a quick search on Google will prove that Kate often opts for clothes that won't break the bank, and that she's not afraid to reuse certain looks.
Still, not everyone is convinced that Kate re-wore the McQueen dress to Meghan and Harry's wedding. Susan Kelley, the creator of a site dedicated to Kate's outfits — What Kate Wore — is suspicious that the dress is a repeat. Kelley argued in a May 21 article that the dress worn to Princess Charlotte's christening doesn't have buttons, while the dress spotted at the wedding does. Additionally, Kelley noted that the 2018 dress has more padding than the 2015 one. Hmm.
Of course, it's totally possible that Kate had the outfit altered to accommodate her changing body. It goes without saying that a person's body can change *a lot* in a three-year time span, especially if they've given birth to three kids.
Although Kelley admitted in her piece that this case is a true "puzzler," she concluded that Kate chose her wedding outfit based on her desire to blend in. "I think Kate did what she has done previously: she chose something that she thought would have the least distraction factor," Kelley reasoned, according to What Kate Wore.
Whether Kate repeated the outfit or not, it's clear she intended to keep the attention focused on Meghan and Harry's special day. By wearing a recycled outfit — or at least an outfit that looks recycled — Kate gave Meghan the opportunity to shine. What are sister-in-laws for, right?