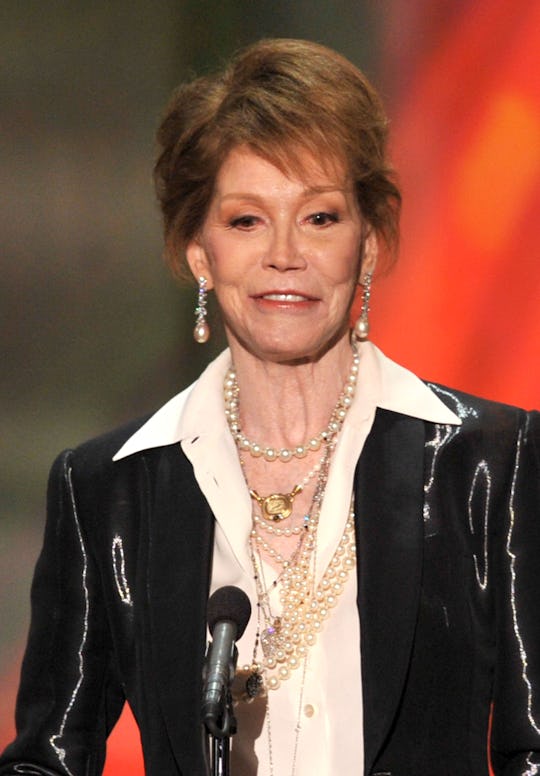 Kevin Winter/Getty Images Entertainment/Getty Images
Mary Tyler Moore Is In Critical Condition
She represented female independence for an entire generation of women. Smart, funny, strong... who didn't love The Mary Tyler Moore Show? As news hits social media that the actress is reportedly in critical condition, heartbroken fans are left wondering if Mary Tyler Moore was sick. And whether or not she will recover.
TMZ reported on Wednesday that the actress was in "grave" condition at a Connecticut hospital. Her family has rushed to be by her side to potentially say farewell. One source told TMZ that Moore had been on a respirator for a week. The actress underwent brain surgery in 2011 to remove a benign brain tumor, according to People. It was an elective surgery, according to her representative, who told the news outlet:
At the recommendation of her neurologist, who has been monitoring this for years, and a neurosurgeon, Mary decided to proceed with this fairly routine procedure.
The 80-year-old Oscar-nominated actress (for her role opposite Robert Redford in Ordinary People) also struggled for decades with diabetes. She was first diagnosed in 1966, and went on to become the international chairperson for the Juvenile Diabetes Research Foundation. Moore is married to S. Robert Levine, and had one son, Richard Meeker Jr., with ex-husband, Richard Meeker. Moore's son Richard died in 1980 from an accidental self-inflicted gun wound.
Moore was a television icon in the sixties and seventies, first starring opposite Dick Van Dyke as his wife, the breezy and adorable Laura Petrie, on The Dick Van Dyke Show. She played Laura Petrie from 1961-1966, winning two Emmy awards for her role. Before Moore took on her next big role, she and then-husband Grant Tinker created MTM Enterprises, which produced some of the strongest sitcoms from the seventies through the nineties. Newhart, Rhoda, WKRP In Cincinatti, and, of course, The Mary Tyler Moore Show were all created by MTM Enterprises.
The show followed Moore as Mary Richards, moving to Minneapolis to work as an associate producer for a television station. Mary was the first of her kind to a generation of women trying to carve a new path; she was single (although the networks wouldn't allow creator James L. Brooks to have her be divorced), career-driven, devoted to her friends... and happy. Her relationship with the women in her life, particularly her best friend Rhoda, opened the door for what we now call #squadgoals. The show was initially met with resistance; one reviewer even referred to Moore's character as a "spinster." But she persevered.
In her personal life, Moore had her fair share of tragedy. Losing her only child, Richard Meeker, when he was just 24-years-old reportedly left her bereft. But she persevered again. Moore once said that, "Pain nourishes courage. You can't be brave if you've only had wonderful things happen to you."
That is one thing that can most certainly be said of Moore; she has been brave.