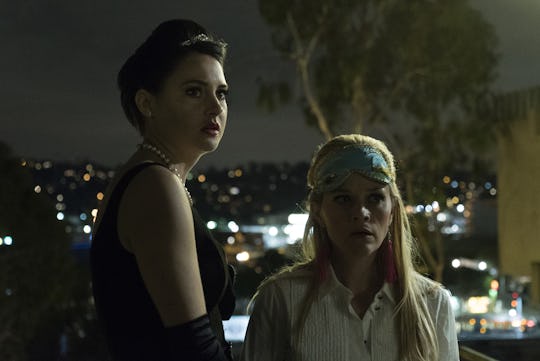 Hilary Bronwyn Gayle/HBO
Jane's Attacker On 'Big Little Lies' Left Some Confused
There was a lot of information to take in throughout the highly anticipated Big Little Lies finale: the reveal of the killer, the reveal of the victim, the fact that Ed shaved his beard off and no one said anything about it. However, there was one revelation that may have left some fans confused regarding the connection between Perry and Jane. So was Perry Jane's rapist on Big Little Lies? If there was any part of you still confused about that particular plot point, let me assure you that he was definitely her attacker (and therefore Ziggy's father), though those words are never actually spoken out loud.
Let's just take a minute and walk through what happened. When the women were all meeting together privately at the Trivia Night event, Perry went down to try and pull Celeste away so they could talk more. Upon hearing the sound of his voices (and seeing his face), Jane immediately froze and grabbed hold of Madeline's arm. Viewers then saw her on the beach in that blue dress once more holding a gun up to Perry. She didn't say a word the entire time, yet it became clear that she was terrified of Perry. Why? Because she's now come face-to-face with her attacker. She conveyed as much to Madeline with a look and the two of them passed that wordless message onto Celeste.
The look on Celeste's face when she realized what her husband had done was enough to make Perry focus in on the other women around him, including Jane, who he definitely seemed to recognize and therefore registered what it meant. Celeste would never forgive him after this, which is why I believe he attacked her so suddenly. And well, you know the rest.
Since the finale, Alexander Skarsgård has spoken about Perry's violence and confirmed he was Jane's attacker. And while those who were unfamiliar with what happens in the book may not have picked up on them, there were subtle hints throughout the series that it was Perry all along. In fact, during an interview with TVLine, Skarsgård confirmed that he was the man briefly shown in Jane's nightmare back in Episode 2.
"Yes. I shot that scene with Shailene [Woodley]," Skarsgård stated. "We obviously had to shoot it in a way where I was slightly obscured. You can't really tell that it's me because, obviously, you ruin the show if you find that out early on." However, he added that a few people close to him recognized his silhouette immediately. "A lot of friends reached out after watching that episode and were like, 'Hey, wait a minute… ' But we tried to do it in a way that didn't [spoil] it."
I already knew how the story would play out from the book (Perry is Jane's rapist in there as well), so it's hard to say if I, personally, would've picked up that it was him from that moment. But either way, Perry got the fate he deserved and is no longer able to inflict pain on others.