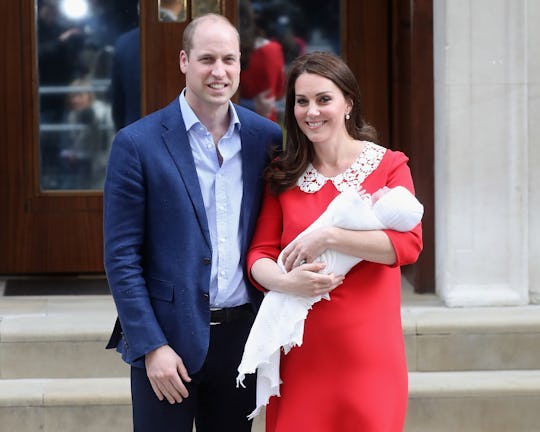 Chris Jackson/Getty Images Entertainment/Getty Images
The Trooping The Colour Was Missing One Important Royal Family Member
When the entire royal family stood on the balcony at Buckingham Palace to watch the annual Trooping The Colour in honor of Queen Elizabeth's 92nd birthday, there appeared to be one person missing. Not the Duchess of Sussex, and can I just tell you how exciting it was to see Meghan Markle curtsy alongside Kate Middleton for the Queen? Amazing, I bet they're best friends now. No, Markle was on hand but there didn't appear to be any sign of the youngest child of the Duke and Duchess of Cambridge. Was Prince Louis at the Trooping The Colour, or was he left behind?
While the royal family hasn't issued an official statement, several news outlets like People made the assumption that little Louis was either being watched elsewhere in Buckingham Palace or at home with nannies. Admittedly, the Trooping The Colour might be a bit much for a baby who is just six weeks old; Prince Louis was born on April 23. And the Trooping The Colour is a pretty loud, busy event. Members of the military from Britain and the Commonwealth perform in a parade from Buckingham Palace along the Mall in honor of Queen Elizabeth's birthday every year. They "troop" (or march) in their colors and flags, and this year it's expected that there were at least 1,000 soldiers taking place in the Trooping The Colours.
So probably not the place for a wee little baby.
Prince Louis was also absent at his uncle Prince Harry's wedding to Meghan Markle on May 19, and the wedding marked his mother's first public appearance since his birth. New York City pediatrician Dr. Robin Jacobson explained to Town and Country magazine why it's not a good idea to bring a baby under two months out in public if it can be avoided:
In truth a newborn baby could go on a plane or be out in public even the day after they're born. We prefer though, that they not for the first two months because the worry is they're going to get sick.
But that's ok, guys. We can wait awhile to see Prince Louis. It gave Meghan Markle and Kate Middleton a moment to bond publicly as sisters-in-law, which is all any of us has ever wanted.
Also let's face it; Kate Middleton was busy enough at the Trooping The Colour without adding the extra responsibility of having a baby on the balcony with her. When her 3-year-old daughter, Princess Charlotte, seemed to take a tumble and bump her head, Middleton leapt into action. And it would have been tough with a baby in her arms.
Middleton and her husband Prince William have been attending the Trooping The Colour with their children for the past few years, but they never brought them as young babies. Their 4-year-old son Prince George attended his first Trooping when he was 22 months old while 6-week-old Princess Charlotte stayed home, according to People.
Both he and Princess Charlotte attended the next year, which means royal fans should see Prince Louis at the Trooping The Colour in 2019.
And now let's talk about Prince George's outfit of red shorts and suspenders and Princess Charlotte's pink dress/barrette combo at the 2017 Trooping, please.
While it would obviously nice to see Prince Louis, the Trooping The Colour was really not the event to, well, troop him out in front of the world. He's still so little, and it's tough enough to manage two little kids on a balcony let alone having a baby thrown into the mix. Plus, Kate Middleton got to look relaxed and frankly fabulous in her pale blue frock.
So it's pretty much a win for everyone.