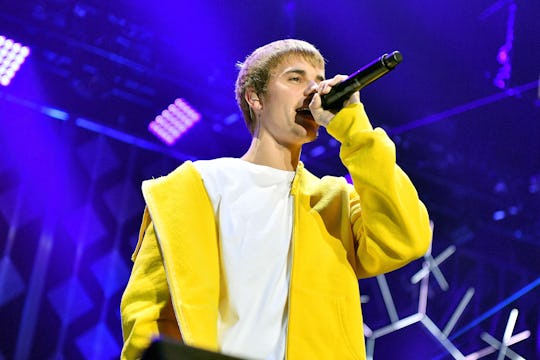 Mike Windle/Getty Images Entertainment/Getty Images
Was 'Purpose' Nominated For A 2017 Grammy? Justin Bieber's Album Got Some Love
It's the most wonderful time of the year, but this time I'm not just referring to the holiday season. While yes, it's true that I do find myself filled with the holly jolly Christmas spirit, I've also found myself contemplating the 2017 Grammy nominations, which were announced on CBS This Morning on Dec. 6. And while it was expected to see the likes of Adele and Beyonce reign supreme on the list of multiple nominee categories, you may be wondering whether or not Justin Bieber's album Purpose was nominated for a 2017 Grammy. To cut right to the chase, the short answer is: Yes. Bieber's popular album Purpose was granted with a nod for Album of the Year.
But regardless of whether or not you find this news surprising, you may also find yourself wondering why the album was even on the list this year, given that it came out in November of 2015. Much like what happened with Adele, Purpose was released after the cutoff date for potential 2016 nominees. According to the official Grammys website, albums and singles needed to be released between Oct. 1, 2014 and Sept. 30, 2015 in order to qualify. (The same precedent holds for this year.) So since Purpose didn't come out until Nov. 13, 2015, he fell just short of the deadline and had to wait almost a whole year to get any possible recognition. But was it worth the wait? It seems so!
Of course, it's always an honor to get nominated in the big general categories, but when you think about who Bieber's fellow contenders are for this year's Album of the Year, it's even more impressive. Both Beyonce's Lemonade and Adele's 25 received well deserved nods in the category as well. So just to be nominated along such powerhouse successes is a win in and of itself, regardless if Purpose walks away with the Grammy or not in the end.
But Album of the Year wasn't the only shoutout that Purpose received. It also earned some love in the Best Pop Vocal Album category as well alongside the likes of Adele's 25, Sia's This Is Acting, Ariana Grande's Dangerous Woman, and Demi Lovato's Confident. So again, that's another commendable nod in the Biebs' direction.
It feels unlikely that Purpose will nab either trophy in the end, not because he isn't talented (we all know he is), but rather due to the fact that it'll be hard to beat the likes of Beyonce and Adele this time around. But either way, I'm glad to see that Bieber Fever is still alive and well.