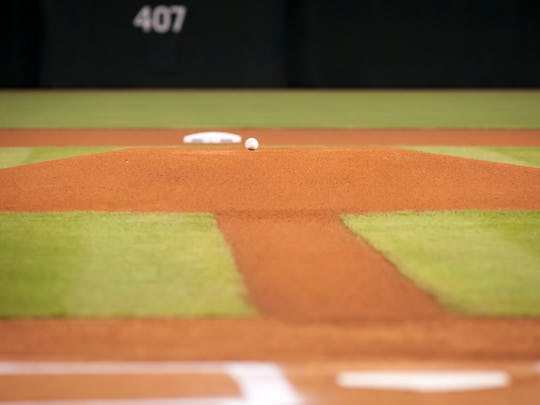 Darin Wallentine/Getty Images Sport/Getty Images
Was The Congressional Baseball Practice Shooting Politically Motivated?
After reports early Wednesday morning of shots fired at the Republican team's practice for a charity baseball game Thursday, the obvious question on many people's minds was whether the Congressional baseball practice shooting was politically motivated. According to The Hill, the practice was taking place in Alexandria, Virginia, which is essentially part of the Washington, D.C. metropolitan area. A group of Republican congressional staffers and representatives were practicing for the annual Congressional Baseball Game, a charity event where members of Congress from the two parties face off on the baseball field. UPDATE: When asked during a press conference later Wednesday morning if the shootings were an assassination attempt, an FBI spokesperson replied, "Too early to tell." At the same press conference, Capitol Police Chief Matt Verderosa said, "We're not going to go into any kind of motivation - it's much too political."
According to CBS News and many witnesses who shared their accounts (or in one case, a text they received from a Congressman) on Twitter, a gunman with a rifle opened fire at the practice, firing a reported 50+ shots and wounding five people. Among them was Republican Majority Whip Steve Scalise, who is from Louisiana, along with two U.S. Capitol Police officers and an aide. A suspect is reportedly in custody and no longer considered dangerous, but as of Wednesday morning, authorities had not commented on any possible motive.
Still, it's easy to see why people would at least wonder if the attack was politically motivated. According to The Telegraph, it was well known that the Republican team practiced at the Alexandria YMCA at the time of the shooting, but MSNBC reported that the shooter, who was dressed in running gear, asked if those practicing were Republicans or Democrats before opening fire. The Democrats reportedly have a separate practice at a separate time.
Republican senators and representatives who were on the field provided eye-witness accounts. The Telegraph reported Sen. Rand Paul's account:
It looked like Scalise was hit in the hip or the leg.
I hope he was OK.
I think the shooter was taken down by the Capitol Hill police.
and described the scene:
We start at about 6:15 in the morning and go til 8am.
There's usually people walking their dogs.
We don't know who the shooter was or why he was there. Whether he was mentally ill.
Mo Brooks, a Republican congressman from Alabama, did not recall the shooter saying anything. He recalled:
I was on third base instead of the home plate. I saw him fire five to six times.
Standing here and watching him did not seem like a good idea. I ran behind the back of the batting cage, I was obscured by the blue plastic.
President Donald Trump issued a statement in response to the shooting:
and later tweeted that Scalise is expected to recover:
There are many questions to be answered in the wake of the shootings, but for now representatives, staffers, and Alexandria residents at least know that the immediate threat has been removed, and no one was fatally injured.