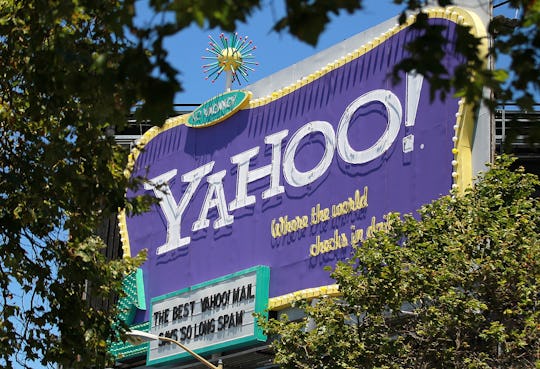 Justin Sullivan/Getty Images News/Getty Images
Was The Russia Yahoo Hack Related To The Election?
It looks as though the Justice Department is making some headway with Russian cyber hackers. On Wednesday, two Russian spies and two cyber hackers were indicted by the Justice Department in connection with an internet security breach from 2014. While this news is a positive step in the U.S. intelligence agencies' battle to crack down on cyber security, was this Russian hack of Yahoo related to the election?
CNN confirmed that the two Russian spies involved in the Yahoo hack are reportedly officers of the FSB (the updated version of the former KGB) and have been identified as Anatolyevich Sushchin, 43 years old, and 33-year-old Dmitry Aleksandrovich Dokuchaev. The two cyber hackers who allegedly worked with the Russian spies were 29-year-old Russian Alexseyevich Belan (also known as "Magg"), and 22-year-old Canadian resident Karim Baratov. According to a statement released by the Department of Justice, the Russian spies worked with the two cyber hackers to steal vital data from 500,000 Yahoo accounts starting in 2014. The statement further explained that the information obtained by the hack was used to:
obtain unauthorized access to the contents of accounts at Yahoo, Google and other webmail providers, including accounts of Russian journalists, US and Russian government officials and private-sector employees of financial, transportation and other companies.
Intelligence officials would not say definitively whether or not the Yahoo cyber hack was related to the email hack of the Democratic National Convention during the 2016 presidential election, according to Vice. When asked by journalists about the possible connection during a press conference, the FBI's top cyber crime specialist Paul Abbate would only say that he was not able to comment on an ongoing investigation.
Acting Assistant Attorney General of the National Security Division Mary McCord held a press conference to discuss the four indictments on Wednesday, saying:
Russian federal security service (FSB) officers working together with criminal hackers conspired to plan and carry out one of the largest cyber intrusions in U.S. history.
As the FBI continues to investigate the hack of the Democratic National Convention's email servers, the Department of Justice has another serious issue on its hands; two of the four men being indicted for cyber crimes live in Russia, and Russia does not have an extradition treaty with the United States. Dokuchaev was reportedly arrested in December, while Baratov was arrested without incident in Ancaster, Ontario, according to a spokesperson for the Toronto police. The other two men remain at large.
Yahoo CEO Marissa Mayer took to Twitter to thank the FBI and the Department of Justice for indicting the Russian hackers. The massive security breach not only influenced the potential sale of Yahoo to telecommunications company Verizon, it also affected more than just emails. Access to passwords for other social media sites like Tumblr, Flickr, and other Yahoo applications were compromised.