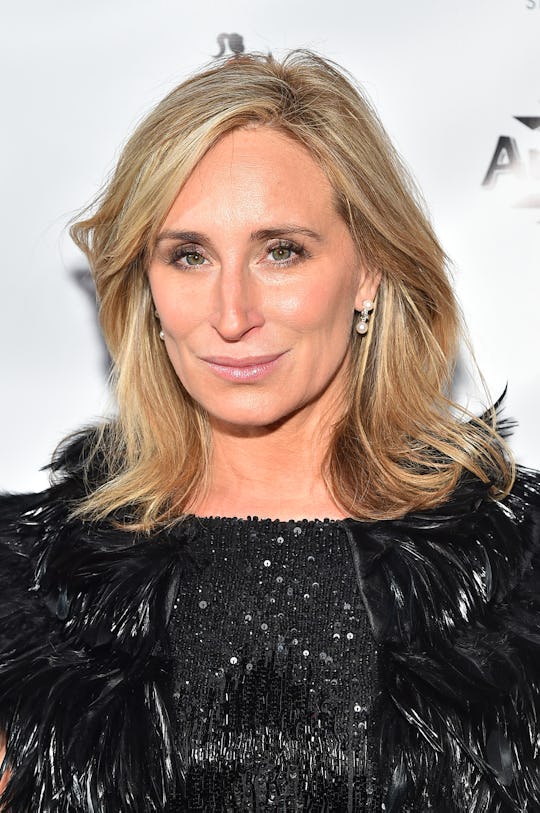 Theo Wargo/Getty Images Entertainment/Getty Images
Was Tipsy Girl Inspired By Skinnygirl On 'Real Housewives'? The Names Are Similar
After many various attempted business ventures, Sonja Morgan finally settled on a line of wine (specifically Prosecco) and dubbed her booze Tipsy Girl. If that name sounds familiar, it's because it is; it's awfully close to co-star Bethenny Frankel's super successful brand Skinnygirl, which is also a liquor line, though it has branched out into other products too. The similarity of name and product is causing friction between the two women both on and off camera. But what exactly were Sonja's intentions here? Did she just not realize how close the names sounded? Was Tipsy Girl inspired by Skinnygirl?
Technically, it wasn't. Sonja has a business parter named Peter Guimaraes who trademarked the name and brought it to her, though Sonja was a fan of it immediately. She has never cited Skinnygirl as an inspiration, and was even surprised when someone first mentioned to her how alike the two names are. However, even if Sonja didn't intend to step on Bethenny's toes, that doesn't mean Bethenny isn't offended.
Sonja debuted the Prosecco at her birthday party, to mixed reactions from the other ladies, and while Bethenny wasn't there for the big reveal, she'll definitely make her feelings known going forward.
In a blog post for Bravo, Bethenny didn't seem so sure about the validity of Tipsy Girl, mentioning both Sonja's less successful business ventures and the failed attempts of other Housewives to launch liquor lines. At the end of her post, Bethenny promised that the issue would be addressed on the show.
Sonja has had: an event company, a jewelry line, toaster, nigerian football team, fashion line, and now a Prosecco--none of which have come to fruition. It is laughable but more sad. Women, this is not how it works. This is the problem when being a reality star is your actual job versus having a career the show follows. People create imaginary businesses to stay relevant.
It's definitely not just an onscreen squabble, however, as the women have been engaged in some trademarking legal woes. At first Sonja seemed like she was going to let the matter drop, explaining on an episode of Kocktails with Khloe: "I have to do something about the name. [...] We need to go back to the drawing board and figure something out that doesn't come between my friendship."
However, since then Sonja is full speed ahead with Tipsy Girl. She's been tweeting it as a hashtag, and apparently has plans to open a restaurant under the name. She might not have been directly inspired by Bethenny's company but that doesn't mean the show won't be running full speed ahead into that conflict.