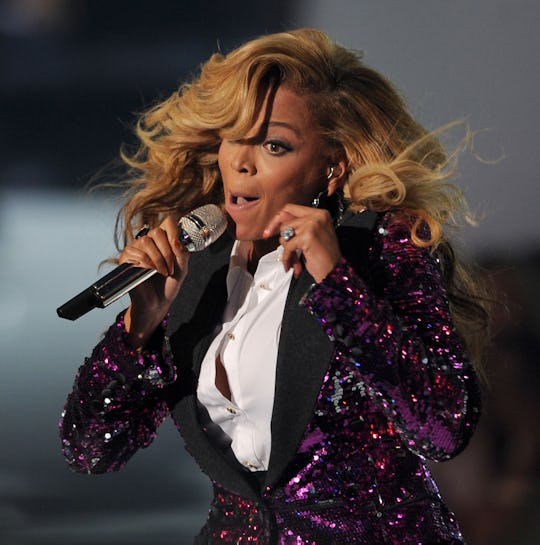 Kevin Winter/Getty Images Entertainment/Getty Images
Let's Relive Beyoncé's 2011 Pregnancy Reveal
There are some moments that are burnt into your brain forever. The day you graduated high school. The rainy afternoon you lost your virginity. The night Beyoncé announced she was pregnant in the most Beyoncé-way possible. And now that Queen Bey has announced she is pregnant again — and with twins no less — members of Beyhive may want to take a walk down memory lane and watch Beyoncé's 2011 pregnancy reveal. I mean, if they don't already watch in on a daily basis.
On Wednesday afternoon, Beyoncé announced she was pregnant with twins via a stunning AF photo. The post featured the singer sitting in front of a Martha Stewart-esque floral arrangement and donning some simple (and what I assume to be silky) lingerie. It was pure beauty. But not as beautiful as the caption that accompanied the stellar image. Beyoncé wrote beneath the photo:
We would like to share our love and happiness. We have been blessed two times over. We are incredibly grateful that our family will be growing by two, and we thank you for your well wishes. - The Carters
It was — and yes, I'm going to say this, ***flawless. But really, what else would we expect from Beyoncé?
Though this was a damn-near perfect pregnancy announcement, it doesn't compare to her pregnancy announcement with Blue Ivy. Instagram was still a baby itself, and social media wasn't the go-to way for people to share the news. So in order for Beyoncé to get the news out to all her fans as quickly as possible, she has to turn to the next best thing — MTV.
According to Billboard, Beyoncé first revealed her pregnancy with Blue Ivy when she walked the red carpet for the 2011 MTV Movie Awards. The singer donned a red Lanvin gown that flaunted her newly formed bump (though she held it too, because she's that sweet.) But, let's be honest, not everyone watches the red carpet. So those who missed the initial reveal were given a second chance to witness Beyoncé's glorious bump. And it was pretty damn epic.
Taking the stage, in heels no less, Beyoncé belted out her hit single, "Love On Top." At the start of the performance, she kept emphasizing love and asked the audience to "feel the love that's growing inside of me." (Umm, gladly Bey.) At the end of her applaud-worthy performance, she unbuttoned her blazer to reveal a beautiful little bump. It was, in a word, perfection.
Does that not give you all the feels? Beyoncé clearly slayed the pregnancy announcement game the first time around, and did so again this afternoon. Congrats to Bey, Jay, and Blue on their budding family.