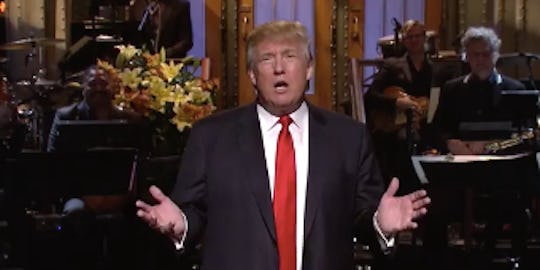 Watch Donald Trump's 'SNL' Opening Monologue — VIDEO
Before Donald Trump even took the stage at 30 Rock to host Saturday Night Live tonight, it was pretty clear that a ton of eyes would be turned to the presidential candidate. Despite protests from people urging NBC to drop Trump from the sketch comedy show because of his comments about Mexican immigrants, Trump — not surprisingly — and NBC (somewhat more surprisingly) didn't back down from the gig. (As if Trump would ever give up valuable TV time!) In fact, in the opening monologue from Trump's SNL episode he went there when talking about Rosie O'Donnell, his ego, and even the protestors outside the studio.
Unlike in the recent GOP debates when Trump had to share the stage with a number of rivals, Lorne Michaels gave The Donald close to four minutes for a nearly uninterrupted monologue. Fortunately, also unlike during the debates, Trump didn't use all of it to talk about his "big, beautiful door" or give the audience creepy winks. Instead, Trump actually managed to poke a bit of fun at himself and his legendary ego while also sliding in a few moments that made you wonder whether you were watching a campaign commercial. (My fave: "They don't have my talent, my money or especially my good looks," Trump, referencing those who've portrayed him on SNL.)
Leading up to the show, The Donald predicted his SNL ratings would be "through the roof." So, here's what Trump said when basically every American (which is probably what he would say if you asked him) tuned into NBC...
All in all, it seems the consensus was Trump's monologue was actually pretty underwhelming... Which was the second biggest surprise of the night behind the fact he didn't go too hard on his opponents.
Image: NBC